Getting to see and hear a master musician up close is an exciting and inspirational experience no matter what age you are.
With the exception of places like The Ark in Dublin or festivals like Tradoodle in Monaghan, there are very few opportunities for children to attend concerts or gigs where they can see bands and musicians in action.
In music education there is often a disconnect between the music we teach in the classroom and the music that is happening in music venues, bars and festivals in the outside world.
Here at DabbledooMusic, we have a plan to bridge that gap and bring Irish musicians and artist into the primary music curriculum.
We have committed to hosting a series of free Classroom Concerts each year for our full school subscribers. These concerts are recorded with the permission of schools and parents and turned into free educational resources for schools across Ireland. We aim to cover a wide range of music styles and traditions and want to work with the best artist and musicians that we can find.
Luckily, in Ireland, we are not short of musicians who are creating incredible music and are happy to share their work with teacher and students alike.
Classroom Concert 1: Joe Mc Kenna
I lived in a small cottage outside Roundwood, Wicklow, for a number of years and found it the perfect setting to practice my Irish trad guitar and learn the fiddle (no neighbours to annoy). After a couple of weeks of moving in I discovered there was an Irish music session every Sunday in the village. It was the perfect session, friendly atmosphere, welcoming to new musicians and an amazing group of regular musicians including two pipers, Joe Mc Kenna and Joe Mc Hugh, and fiddle player Paul Bradly.
Joe was a particularly inspirational musician to play with whether he was on the pipes, whistles or the accordion. His mastery of the instruments, understanding of the music and generosity with his knowledge made him an obvious choice for our first Classroom Concert in Roundwood National School in November 2017.
The children where enthralled for the hour long workshop and concert with lots of foot tapping, clapping and questions for Joe.
The full workshop and concert is available as a free resource here:
Classroom Concert no.1 with Joe Mc Kenna
---
Classroom Concert 2: Eomac
Our first concert dealt largely with Irish traditional dance music and our second concert brought us right up to 2018 dance music straight out of Berlin via Dublin with Irish composer, producer and DJ, Ian McDonnell aka Eomac.
Again, the children were amazed and excited to have a professional musician in their classroom sharing his music, his experience and his time.
There was an all out dance session, a play along with a DabbledooMusic / Eomac collaboration and questions and answers focusing on Eomacs' music career.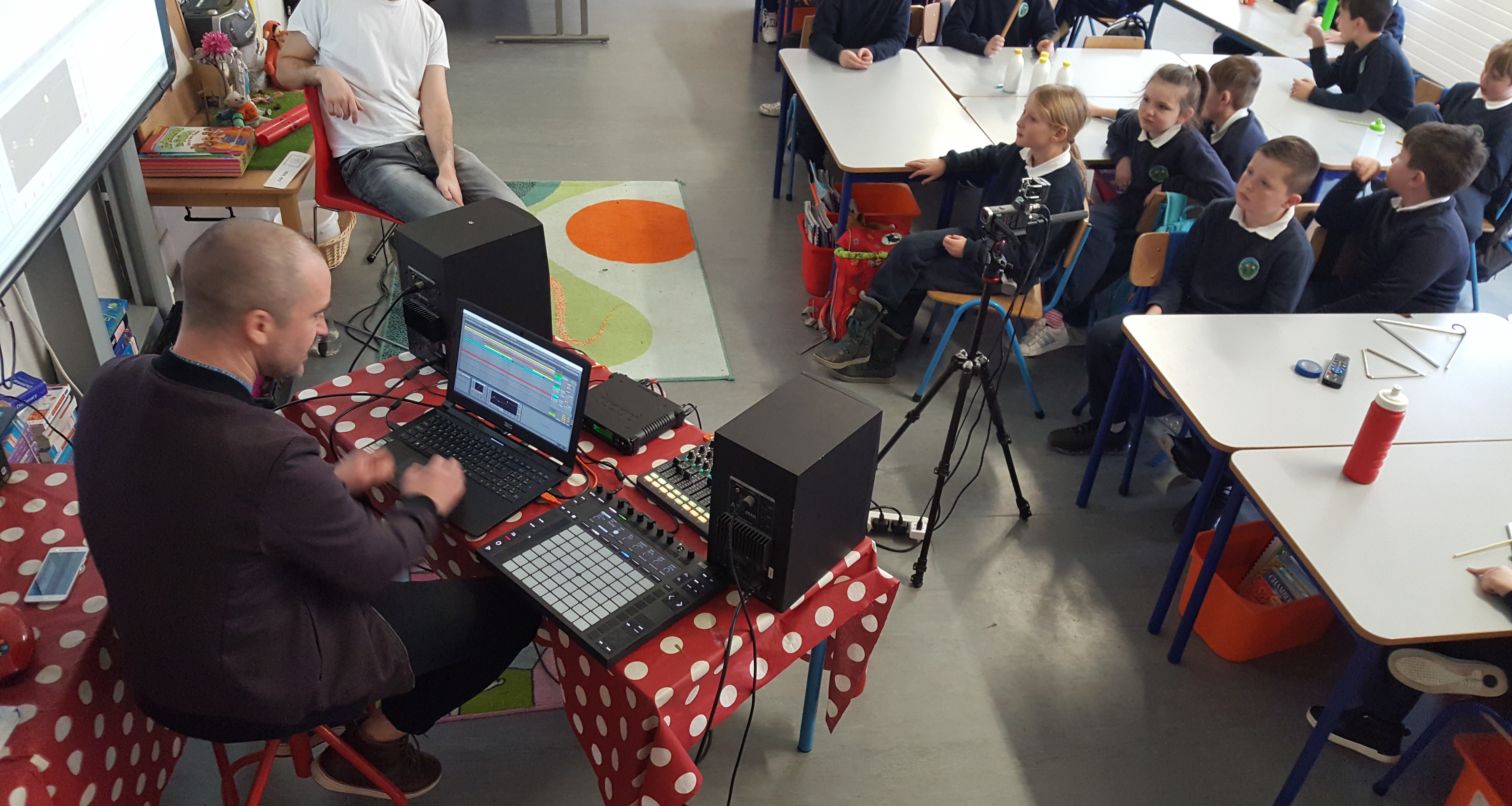 When a classroom turns into a dancefloor! @eomac_music and @StPetersBray at last week's #classroomconcert. #musiceducation #technotuesday pic.twitter.com/brdD1le4eP
— DabbledooMusic (@DabbledooMusic) January 18, 2018
Inspiration and Life Lessons
There was an interesting crossover between the two concerts that was clear when talking to the teachers in each school.

The opportunity to interact with a professional musician and artist is an incredible inspiration for young people. The take away message from the Eomac questions and answers was that if you are prepared to learn and practice, work hard and persevere, you can choose any path in life and be happy doing what you enjoy.
Calling all Musicians!
We believe the connection between music education and the world of contemporary music making needs to be strengthened.
For new music to flourish, we need a music education system that encourages creativity, critical listening, empathy and the pursuit of learning and new experiences.
If music education is to thrive we need musicians and artist to get involved: share their music, their experience and their story.
We are planning to host four Classroom Concerts every year with musicians and artist from different genres and backgrounds. As part of our commitment to music education as a social good, we are taking care of all costs and fees for the Classroom Concert series.
If you would be interested in sharing your music with children across Ireland and joining the DabbledooMusic creative revolution, get in touch: