Recently we asked teachers what their biggest challenge with teaching music was. There were a wide variety of different responses which showed some of the daunting aspects Irish teachers find with teaching music in the classroom.

Below we have picked the 3 most common responses and provided some insight as to how a teacher can overcome them. Our solutions have been taken from both from our own experience of working with schools and also from the details included from the Irish primary music curriculum.
1.) 'I'm not musical/no experience with music'

Let's deal with the first part of this because this comes up time and time again from people of all ages and demographics. People assume they can't do music and have get outs by claiming things like they are 'tone deaf'.
The first thing to realise is research has shown only about 5% of the population suffer from amusia which is a clinical cognitive impairment meaning the brain cannot process musical sounds properly to make sense of them (REF).
There's a simple online resource you can go to called www.tonedeaftest.com where you can do a very simple test to see if you're tone deaf or not. It tests, for example, whether you can tell if a note is higher or lower than another note. They even give you a nice badge you can download and stick on the mantelpiece.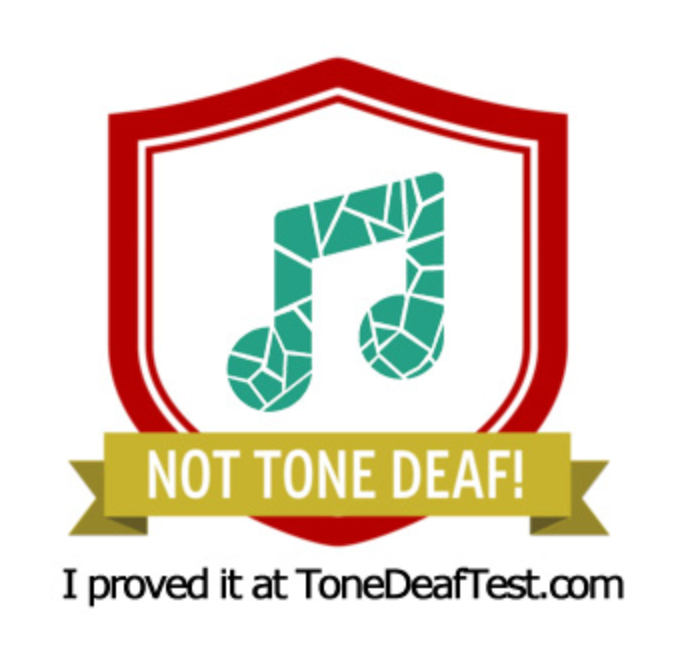 A lot more than 1 in 20 people seem to believe they are tone deaf simply because they struggle to sing in tune. It reminds me of that scene in the first Matrix film where Neo awakes in the real world for the first time and says, "why do my eyes hurt?" Morpheus responds by saying, "you've never used them before."

So if you think to yourself "why can't I sing in tune?" just imagine Morpheus saying to you, "it's because you've never used your ears before."
The solution to this, like anything, is to practice. The more you can expose yourself to music the greater the confidence you will build from it. Here are a few simple things you can do to improve it:
a) Listen to music more - while you're in the car, on the bus, cooking your dinner, doing the washing-up; the more you can expose yourself to music the more you will inherently start to pick it up.
b) Sing when you get the chance - sing in the shower, sing hymns in church, sing Spice Girls at karaoke; wherever you get the opportunity to do it, give it a go. It doesn't matter if you don't think you sound good, just try it and the more you do it the better you'll get at it.
c) Take up the instrument you always wanted to play - a lot of people speak about their regret of giving up the piano as a child, or that they have always wanted to learn the guitar. You're never too old to pick up an instrument and there are really simple ways of getting started.
I am learning the tin whistle at the moment and recently went along to the Cobblestone pub in Smithfield, Dublin where on a Wednesday night they do a 2 hour group trad lesson for beginners and charged €5 for it. Have a look in your local area for similar groups that you might be able to join or get lessons from.
The last thing to say about this is that the perception that people believe they are not musical is a negative product of our society. When we do workshops with adults, we do a simple survey at the start where we ask 'who here is a musician?' There's typically a small smattering of hands that are raised. When we ask the same question to a group of children, virtually all of the kids put up their hands.
Children believe they are musicians and so somewhere along the line being a musician has become a very defined thing that is seen as being separate from everyone else. You are a musician and you're never too old to start getting pleasure from it - you've just got to work at it. Once you do that, you'll get even more enjoyment from teaching it to the next generation.
2.) Resources/Ideas
Often a key challenge for teachers is not a lack of desire to teach music, but simply a feeling that they don't have sufficient resources and ideas.
Here are a number of suggestions that the teaching guidelines section for the music curriculum provide:
a) Parents - keeping parents aware of the musical activities within the school will lead to greater support for the activities. A good way to get further involvement is to put a message out to the school community to ask if there is are any parents who plays music who would be up for doing a classroom concert. We have recently started our own classroom concert series and it has been hugely engaging for the pupils to see a highly skilled musician in their classroom. You can read more about this here.
b) Local libraries - as well as books, many local libraries have a wide range of audio and visual resources. Here's an example of a local Dublin library and the music services they offer. As you can see this covers everything from scored sheet music to borrowing CD's. Check out if your own local library has a resource like this.
c) Local music organisations and societies - it can be a good idea to make contact with local music organisations and form a relationship with them; local music schools may already have some of your students learning an instrument outside of school. There may be opportunities to arrange workshops, attend concerts or even share resources (particularly instruments and music).
d) Radio, television and video - educational programming can be an easy and relatively cheap way to get music resources for the classroom. Here is a fantastic example of an Irish tin whistle course suitable for primary school level which teaches the tin whistle through short simple videos.
e) Festivals, competitions and special events - often a great way to engage students is for them to work towards a performance or even competitions. Festivals like the Feis Ceol or MusicFestival.ie can create a particular focus for the music activities in the school but equally as valuable may be a school concert where the children get to perform for their parents.
f) Local education centres - at Dabbledoo we run a number of music CPD courses for teachers throughout the country (you can see our list of courses here). These are a good way for teachers to gain further understanding and ideas for implementing the music curriculum. We are also planning on releasing a video of our CPD content in the coming months which you'll be able to download from our website.
g) Professional music groups and bodies - organisations like RTE, the Ark, the National Concert Hall, the Arts Council all at various times of the year have specific announcements on arts resources for schools. A very recent example is the Irish government's announcement of the Creative Schools programme where schools can apply for up to €2,000 through the Arts Council to help fund arts education in your primary school. You can read the details here.
Here are a few resources of our own which we recommend:
h) Online - video sites such as YouTube give schools easy access to video content. These can be used for getting recordings of specific pieces of music or for showing clips of how an orchestra perform or what an Irish trad session looks like. We recently compiled a list of video links for all of the pieces mentioned in the Listening and Responding section of the Irish primary music curriculum. You can download this here:
Download: Listening and Responding Resource
There are also a number of websites which can provide useful resources and ideas for the curriculum. Here's an example from Twinkl.co.uk which provides some resources for teaching the infants music curriculum.
Further to this, a number of Irish primary teachers share their resources through their own websites. Here's an example from Niamh at irishprimaryteacher.ie who shared her resources from her own music lesson plans.
i) Instruments - the Irish curriculum encourages a certain proficiency from primary school students in using simple percussion instruments. Getting access to these instruments can be tricky. Two solutions would be to, firstly, look at making your own instruments (ReCreate provide free reusable resources which can be perfect for making instruments) and, secondly, to purchase instruments from an education suppliers (Waltons Music provide affordable percussion value packs for schools).
Further ideas for teaching the music curriculum:
Have crossover with different subjects - for example, pick a poem you are studying in English or Irish and put music to it or make art work based on a piece of music the class has listened to.
Crossover between the 3 curriculum strands - listen to a piece of music, perform it, and then try to compose something in a similar style. An example might be to take the Beatles 'Yellow Submarine' (here's a video with lyrics included). Get the students to listen to it and ask for their reaction to the song. Then get them to sing along to it for the performance strand. Finally, once they're comfortable with performing it, get them to come up with their own song lyrics about a submarine and then try to put music to it.
Compose simple word patterns - use words with different amounts of syllables for teaching rhythm. A good example is to use place names such as, 'Sligo' is two quavers together (♫).
3.) Time
A lot of teachers have told us the Irish primary curriculum is too jam packed and subjects like music and art get pushed down the priority list. This is completely understandable and often is a source of great frustration to both the teachers and the students. While there is no silver bullet solution to this, here are a 3 factors which can help impact the amount of time a teacher has for music in the classroom:
a) Culture of music in the school - discussing with all the staff how important music is to the school is an ideal first step. If the school is bought into it, being able to share ideas with other teachers and experiences about what has worked for them is very important.
The music curriculum teaching guidelines state the following:
Agreement should be reached at whole school level on the type of approaches to be taken in critical areas such as:
• music literacy (for example the type of notation to be used in the school)
• instrumental work (for example the type of melodic instrument to be chosen and the optimum class level for its introduction)
• appropriate singing and listening material
b) Planning - making simple lessons or working with a company who provides lesson plans as part of their resources can take a lot of the last minute headache out of planning your music classes. Being able to tie music into seasonal themes such as Halloween or Christmas can also be an easy way to cover the aspects of the curriculum.
c) Crossover with other subjects - as mentioned before an easy way to fulfil the curriculum is to crossover music with other subjects. These might include doing a Irish history project which incorporates looking at Irish traditional pieces of music or it could be doing a geography project which looks a different countries and the different musical traditions from each.
Here's a good example from the curriculum teaching guidelines as to how one theme can cross over to multiple subjects:
In conclusion, music doesn't have to be a daunting subject to teach in primary schools but it takes an investment in resources, in planning and in you the teacher to feel comfortable to teach it. If you can get these three things right, it will increase both your own enjoyment for the subject as well your students.
At Dabbledoo we provide the music curriculum through online interactive resources and simple weekly lesson plans. If you would like to try it out for your school, you can sign-up for our free trial today: