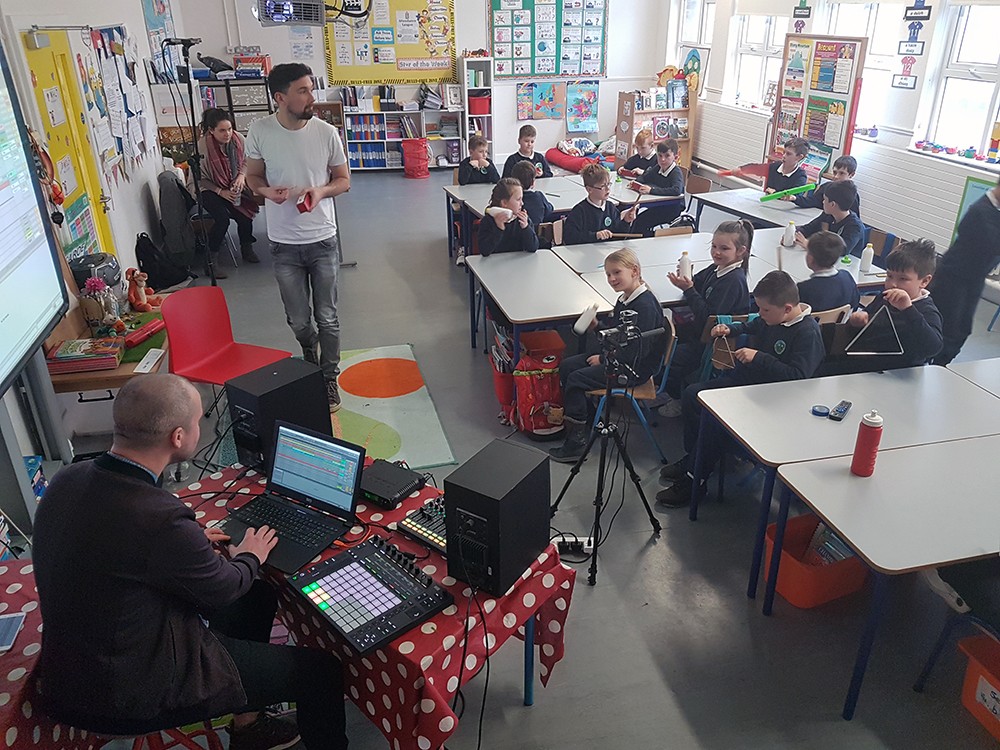 We're lucky to live in a country with such a rich musical heritage. When one thinks of Irish music, traditional music immediately springs to mind, such as that that was played so skilfully by Joe McKenna in our first Classroom Concert. Within traditional Irish music, skills and knowledge are passed on from one generation to the next, unofficial apprenticeships are done as younger musicians learn from the masters, songs are kept alive through the weekly sessions.
But there is a younger type of music that has been bubbling below the surface for recent decades and beginning to make an impact at home and abroad. Electronic music is not dissimilar to trad: it is a scene that is built on shared knowledge, it is a multitude of sounds honed out via collective participation in events, cultural references and songs are kept alive through sampling, remixing and collaboration within a barely visible underground.
Eomac is an Irish electronic artist on a creative surge these days. He has studied and worked tirelessly on his craft for many years, constantly learning and experimenting yet managing to consistently release critically acclaimed music. Being part of the electronic music scene at the same time means I have had the pleasure to collaborate with Eomac on many occasions; putting on gigs together, DJing side by side and I also helped release the first Lakker song on vinyl, a group he has with fellow Irish producer Dara Smith.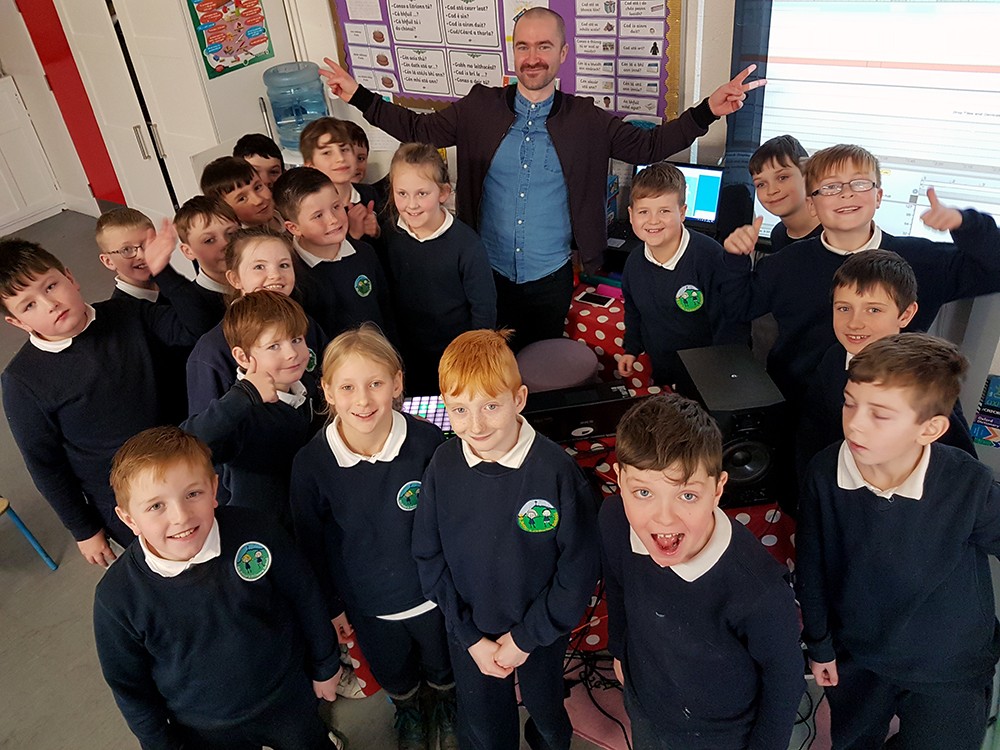 Eomac has been supportive of what we do with DabbledooMusic since day one, and indeed he has contributed by performing at many of our events, so he was the natural choice for our second Classroom Concert. Taking the time out to visit St Peter's NS Bray, he takes the students on a tour through his own musical journey , as well as explaining musical concepts such as beats, melody, samples and effects. There's even a very special collaboration with the students on a graphic score towards the end. If the level of enthusiasm from the students is anything to go by, expect there to be a big spike in young producers coming out of the Bray area in the next decade or so!
The full workshop and concert is available as a free resource here:
---
Eomac is an artist with many interesting opinions on creativity and self-expression. I sat down with him to discuss his own musical learning recently:
You started playing piano from an early age. How important do you think it is to get started on music early on in life?
I think it's important, and very natural, for kids to get involved in music early on. Mainly for the sheer joy and creativity of it. But also, it is never too late to get involved in music no matter what stage of life you are at. Music is for everyone, at all times.
Are there many similarities between music production and learning an instrument?
Yes, there's the same kind of practice it takes to learn techniques, and refine and hone them. There's the same kind of listening involved - to other producers / players to learn and take inspiration from. And there's the same joy and pleasure when you learn how to do something new, and then apply that and create something unique from it.
As a producer of electronic music, how much of your musical development came from formal education? Did you have certain teachers or mentors to guide you?
My development came from a mix of formal and non-formal education. In all honesty I have had really positive experiences in formal education and really negative ones.
I had an amazing teacher in Michael Ball, who I have taken piano, orchestration and composition lessons with. He is an inspiring teacher - the way teachers should be - brimming with passion for music and eager to share his passion and love with his students.
I also learned a lot in a non-formal way from Dara Smith, my writing partner in Lakker. He taught me a lot over the years on terms of music production and DJing etc.
How important is creativity to you? Can you imagine a career different to music?
Creativity is essential - to all humans. We are creative beings and for me that comes out as music. I couldn't imagine a different career than music. Since I was a teen it's always what I wanted to do. There was no real choice for me - it was very clear that music would be my path. Where it will lead I am in the process of finding out...
You've been lucky enough to travel the world as a result of your music. What have you learned from your travels?
That people are amazing. We are the same the world over, and we have far more in common that we have different. And we are all deeply connected.
What would be your advice to the young producers out there who are starting off their journey in music?
Do what you love. Make the kind of music you love. Be yourself. Be persistent. Don't compare yourself to others. Take pleasure in what you do and keep doing it. And keep doing it. And keep doing it. And keep doing it. Don't give up. Only ever listen to constructive criticism from people you absolutely trust - people you know have your best interests at heart, and who understand and support what you do - and ignore any other critic, naysayer or hater. You are your own unique expression and nobody else in the universe can do what you can do or say what you can say. Don't forget that.
---
Wise words indeed from Eomac, surely echoing the advice and support that teachers all around the country are providing to their pupils on a daily basis. If you would like to read further about his story, there's an excellent article he wrote for Self-Titled Mag over here.
Worth pointing out Eomac uses a piece of equipment called the Ableton Push. We have a lesson in the above course explaining how it can be used. Ableton are the company that make it and have put together a really user-friendly site explaining electronic music concepts and techniques. If there are any budding producers in your class or even just someone curious to find out more, it's definitely worth checking out.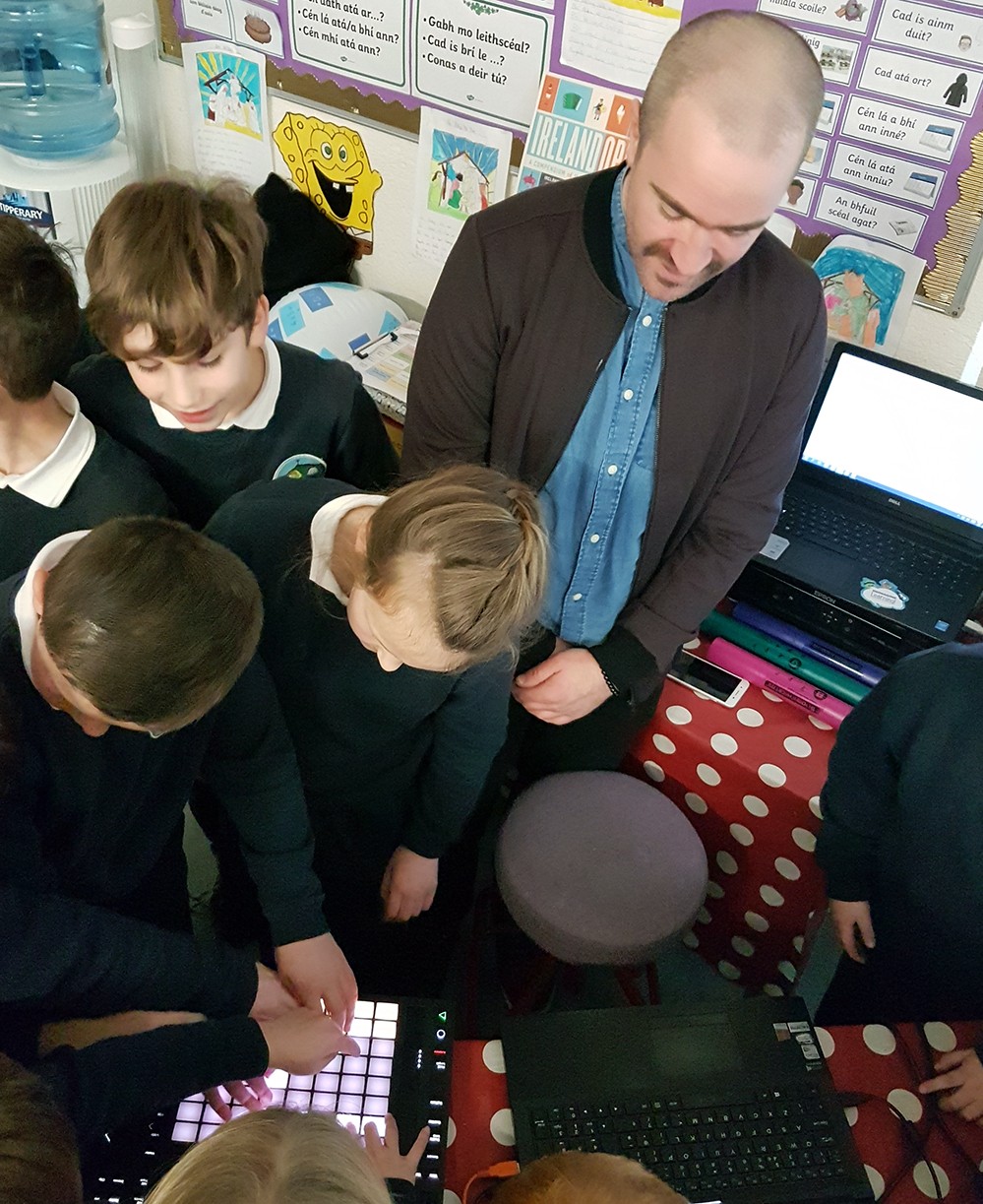 Eomac put out his most recent studio album two weeks ago. Entitled 'Reconnect', it was released on his own label, Eotrax, and demonstrates why he is so vital to not just to this island's musical heritage, but also the global electronic music scene. You can listen to the album below (and buy it if you like it!). The link is from Bandcamp, a fantastic site for musical discovery if you want to find things that might not necessarily feature on the radio!
---
---
Call to musicians!
Imagine being back in primary school and getting to witness an artist of Eomac's calibre demonstrate his music? At DabbledooMusic, we're all about getting Irish musicians to share their stories and music to young people, and perhaps getting a few budding young musicians to consider music as a path through life as a result!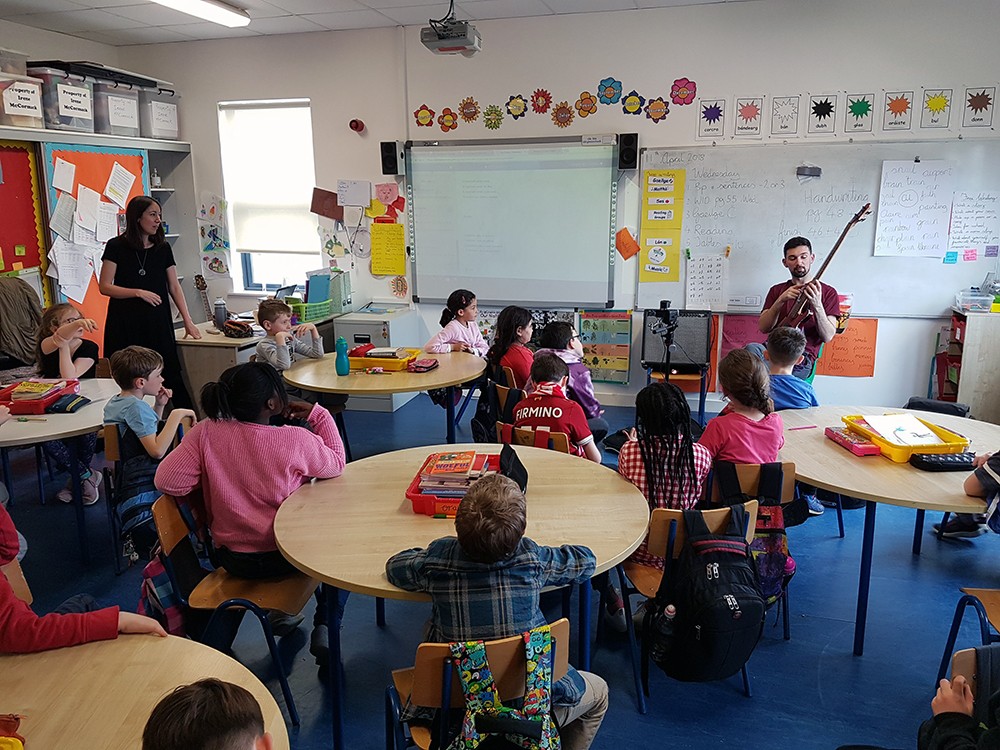 We've already filmed our next Classroom Concert, featuring our own guitar maestro Shane McKenna and Rush & Lusk Educate Together. We're currently lining up our Classroom Concerts for the 2018/19 school year. As part of our commitment to music education as a social good, we are taking care of all costs and fees for the Classroom Concert series.
If you would be interested in sharing your music with children across Ireland and joining the DabbledooMusic creative revolution, get in touch: