---

A music festival might just be the exact opposite of lockdown.

You're always sure of a good crowd whether it's the Willy Clancy Summer School or Electric Picnic. You are constantly surrounded by happy strangers that are singing, dancing, chatting and shouting. Music festivals most often take place on beautiful sites in the Irish countryside where you are free to roam and explore and get lost. Your comfortable bed might have been temporarily replaced by a slip of foam and a sleeping bag, but even that discomfort becomes part of the fun of your new festival world for two or three days.
And of course, the music. It's a great feeling to plot out your entire day based on what live music you are going to listen to. It could be your favourite band playing their first Irish gig or an artist you've never heard of, who make a lasting impression. Music festivals are full of shared musical experiences that are often the highlights of the summer.
Unfortunately, music festivals are postponed for the time being but they will be back and we will appreciate them, and the people who make them happen, all the more.
In the meantime, we were inspired by our love of music festivals to come up with a musical activity for the whole family: create a music festival in your home!
---
HomeFest 2020
Here's a list of all the things you need to do to create a music festival at home:
1. Tickets and Wristbands
The first important thing you will need to do is make a ticket and a wristband for everyone attending the festival. You can keep the festival wristbands as a souvenir so get the arts and crafts materials out and get everyone to make a nice festival wristband for themselves. You may also need security at your festival, depending on how well the crowds behave!

---
2. The Campsite

A regular bedroom becomes an instant campsite if you put the mattresses on the floor and make a couple of forts or tents with the duvet and bed sheets.


Camping at Another Love Story

---
3. The New Acts Stage
It's time to get the party pieces out! Everyone can take a turn to sing a song, play an instrument or perform a party piece.
If you are not so confident with the live performance you can go to one of our sing-along folk songs at DabbledooMusic.com like Hill and Gully Rider below. Try to learn and rehearse the songs before the big festival day so you can nail the performance.
You will find the folk songs in our free parents content below.
https://dabbledoomusic.com/p/parents-subscription-...

---
4. The Main Stage
This is a chance to sit down on the couch and watch a live performance from one of your favourite bands. There are so many live concerts on YouTube alone that you should find something to suit all tastes. You can watch a whole concert or select short live performances of songs.

The NPR Music Tiny Desk Concerts are a great place to find amazing live performances from a huge range of artists. Here's a family friendly concert featuring the Blue Man Group. Expect unusual instruments, physical comedy and general fun and weirdness.
This is one of the most famous live performances of all time, with songs that you will all recognise. Make sure to join in with Freddie Mercury's vocal warm up bit.
---
5. The Dance Tent
If you can't dance at a music festival, where can you dance?
We have two playlists of groovy tunes that will get the whole family dancing. We recommend the kitchen for this room - for some reason if dancing is happening in a house it's usually in the kitchen.
First, a special selection of Irish artists to get you dancing, chosen by our very own DJ Redmonk:
No Irish festival is complete without a set from Dj, radio and TV presenter, Donal Dineen. Here's a Spotify playlist from his series of dance events for children called Tiny Dancer.
---
6. The Chill-out Zone
With all the music and dancing going on, it's good to have a place to relax. This could be a good one for another bedroom. Set up all the duvets and pillows you can find and put them on the ground. We've also put together a playlist of some nice chill-out music for you to unwind. If you or your children practice yoga, mindfulness or meditation, this is a perfect room for it.
---
7. More DabbledooMusic Playlists for the Family
Homefest 2020 is all about the music so here are some extra playlists for all the family.

Music From Africa
Irish Music
Music From Brazil
---
8. Leave no Trace
This policy encourages festival goers to clean up after themselves which may be a good way to get your house back in order after the festival!
We hope you all have a ball at Homefest 2020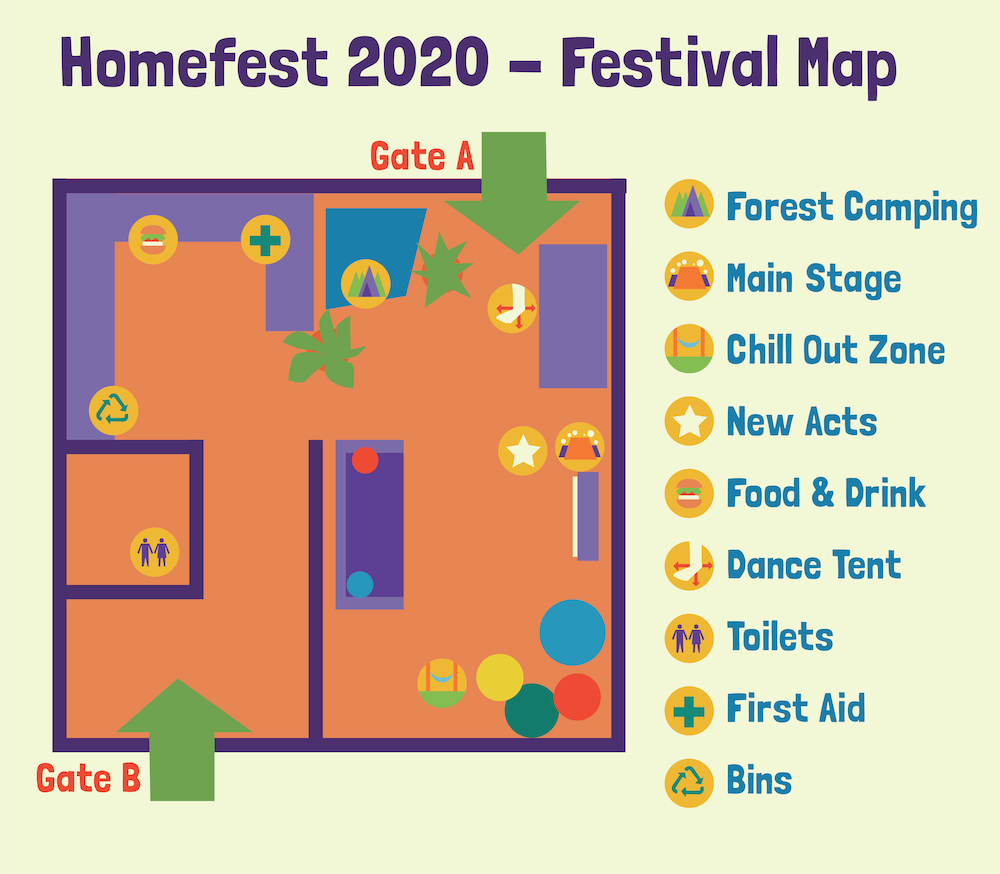 We'd love to see how your festival turned out! If you'd like to send us on a photo or video you can tag us at the following:
#dabbledoohomefest or #dabbledoomusic
Or you can leave a comment below.