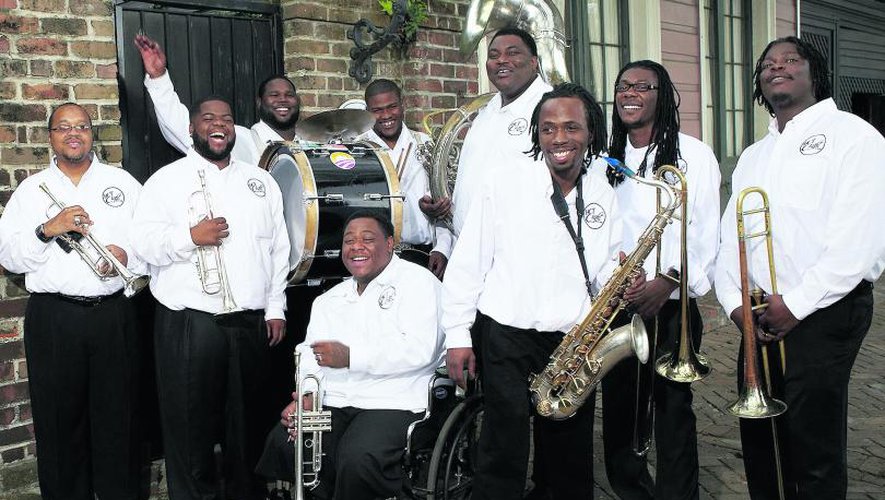 Back in September last year, as part of our monthly radio slot on Dublin Digital Radio, we featured the music of New Orleans. A big part of this show was looking at the contribution that brass marching bands have had on the music from the city and the development of the jazz sub genres such as dixieland and 2nd line. To this day, many bands still continue this style and play at community events such as funerals and Mardi Gras celebrations.
Over the past 20 years or so, many brass groups, inspired by this tradition, have set up all over the world with their own unique take on this genre of music. These bands, a number of which have had a lot of mainstream success, still continue with the traditional instrumentation which would typically include some combination of the following:
- Trumpets
- Saxophones
- Baritone Horns
- Euphonium Horns
- Trombones
- Sousaphones/Tubas
- Drums and Percussion
With this unique instrumentation, it has enabled many of these brass groups to produce very interesting cover versions of other established songs. To give you a flavour, this blog features 7 cover recordings by some of our favourite established brass bands. We've also included links to the original songs so you can listen and compare the two versions.
(For Irish primary teachers, this can be a fun exercise in the classroom as part of the listening and responding section of the Irish primary music curriculum. Listen to both the cover version and the original in the classroom and discuss with your class which version they prefer and why. You could also discuss with them what elements are different between the two versions.)

1.) Youngblood Brass Band - 'Mad World' (Tears for Fears)
Youngblood Brass Band were formed in 1995 from the school marching band in Oregon High School, Wisconsin, USA. They have produced many different successful cover versions of popular songs but this version of 'Mad World' by Tears for Fears is my favourite. The band have completely reimagined Tears for Fears' moody synth pop hit from the 1980's and turned it into an upbeat carnival party tune. Check out how Youngblood's version shifts at the 2 min 40 sec mark to change the melody into a syncopated rhythm with an overall more latin feel.
While we're on the topic of this song, here's an amazing version of the original by Curt Smith and his daughter Diva aptly recorded during the lockdown.
2.) Meute - 'You and Me: Flume Remix' (Disclosure)
The influence of New Orleans brass music doesn't just extend to the rest of the USA as German outfit Meute have proven. The have infused traditional brass playing with techno music which you can hear in the Flume remixed song 'You and Me' by Disclosure. They have a lovely use of xylophone which you can hear at the start of this piece all while performing in their amazingly slick uniforms!
3. Hot 8 Brass Band - 'Ghost Town' (The Specials)

Hot 8 Brass Band were originally formed in New Orleans in 1995 and have created a sound that blends the traditional brass sound with jazz, funk and hip hop. This is their version of The Specials' song 'Ghost Town' with the video showing images of flooding in their native New Orleans. If you listen to the backing vocals in the original you can hear how Hot 8 have cleverly arranged those lines to be growled out by the trombones.
4. Lucky Chops - 'Funkytown' / 'I Feel Good' (Lipps Inc. / James Brown)
These guys are pure fun! Not only is the brass playing great but the dance moves are next level. As I saw one YouTube commenter say, "it's the only band where the drummer is the calmest person". Here's their medley version of 'Funkytown' mixed with James Brown's 'I Feel Good' performed in a New York subway station. A lot of the drive in this music comes from the bass lines made up of a combination of the sousaphone and baritone saxophone player - the latter of which inserts some lovely 'screaming through the instrument' sounds.
5. Hackney Colliery Band - 'Africa' (Toto)
There have been a lot of versions of Toto's song 'Africa' and it was only a matter of time before it was set for full brass. Hackney Colliery Band, a brass group from England, have done a great job of re-arranging this song to capture the iconic padded chords at the start of song which work really well on brass. Listen out for how the vocal melody passes between different instrument sections all while the band slowly parades offstage.
6. Brassroots - 'Sweet Dreams' (Eurythmics)
Another very popular song which has had tonnes of cover versions is the Eurythmics song 'Sweet Dreams'. The iconic synth chords that continue throughout the song are captured brilliantly in this version by UK based band Brassroots. The driving bass line from the sousaphone creates a really exciting undercurrent to the song that the sweet trumpet melody can then sit on top of.
7. New York Brass Ensemble - 'Call Me Al' (Paul Simon)
Don't let the band's name fool you, this is actually a band from York in England who are new and not just a band from New York in the US. Here's their version of Paul Simon's song 'Call Me Al'. The original already has very iconic brass lines that the New York Brass Ensemble have done a great job of recreating alongside a fantastic vocal performance. Their music video is lots of fun too culminating in a full on street party with their audience.
I hope you enjoyed our list. If you find any other brass cover versions of popular tunes, please leave them in the comments below.
As I mentioned, here at DabbledooMusic we do a monthly kids radio show where we pick tunes from a different musical theme or genre each month. If you'd like to access all our episodes, you can sign-up to our free radio show course here: