There will be a lot asked of teachers in the lead up to the schools reopening so we are launching our full planning content to help with the preparations for September. For further advice on the return to school following Department of Education and Skills recommendations, see our Guidance for Music Making in Primary Schools blog.
Our full 2020/21 planning content is now available for all DabbledooMusic teachers and schools including full yearly plans, monthly plans and weekly lessons for each class available in PDF and Word documents:
VIEW 4TH CLASS YEARLY PLAN 2020/21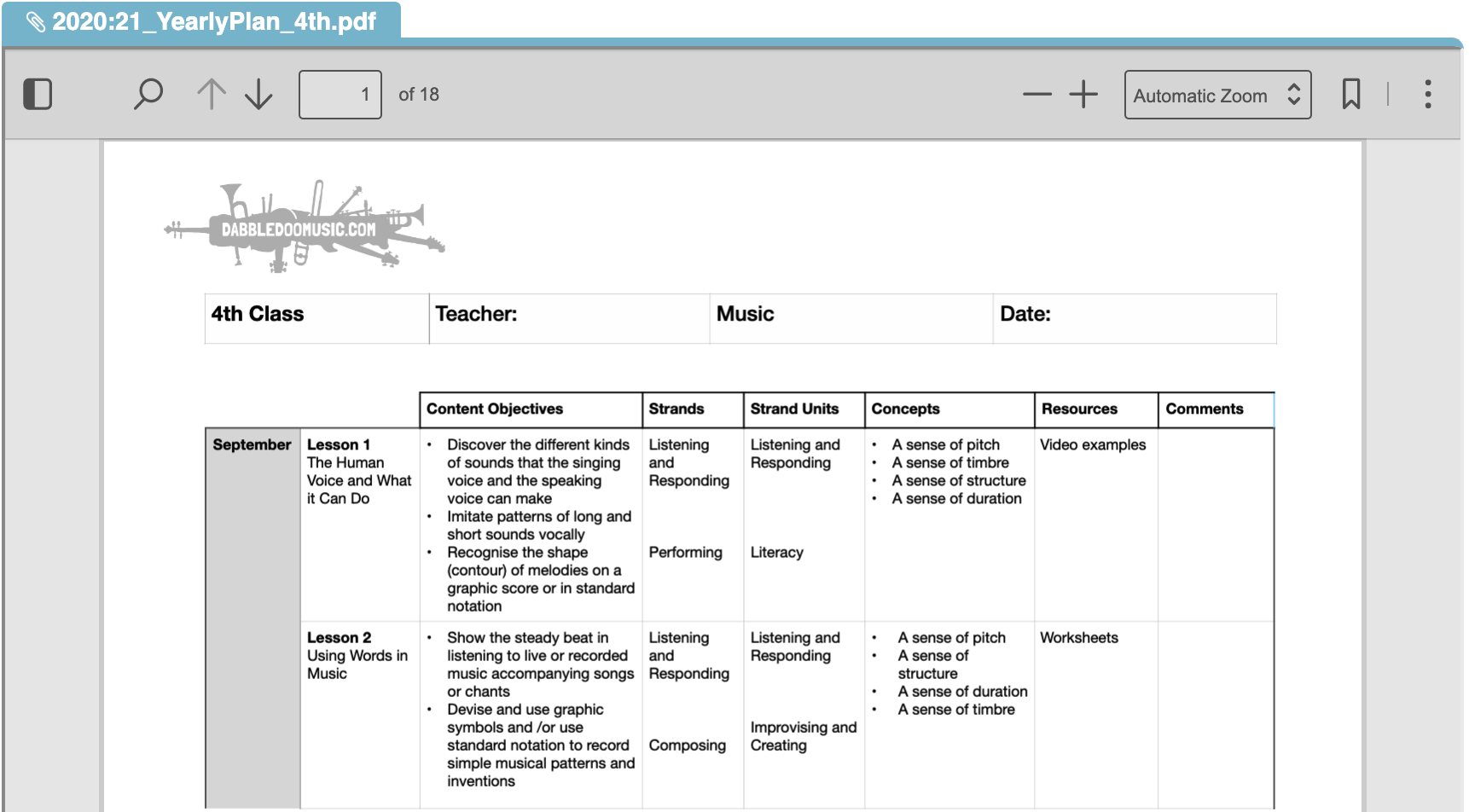 Our content is based on the Irish Primary School Curriculum from which we follow the aims and objectives set out by the Department of Education and Skills. Below, we have highlighted some of the key areas of the curriculum and how we have included them in accessible and fun lessons and activities for children and teachers alike.
NB. The links below will require teachers to log into their DabbledooMusic subscription to be able to view content.
---
Strand: Listening and Responding
Strand Unit: Exploring Sounds
Exploring sounds is key to developing an understanding of the basic building blocks of music. An awareness of environmental sounds is nurtured in infant classes through listening and responding activities. This begins by listening to the sounds in the school and in the surrounding environment and develops into imagining sounds in a given situation or location. Lessons about "The Sounds on a Farm" or "The Sounds at Halloween" develop both listening skills and imagination.
For older classes this leads to a greater awareness of environmental sounds and the qualities of these sounds: are they loud or quiet, short or long? Older classes will also explore the sounds of different instruments with special video lessons with instrument maker Ed Devane. These videos and listening content explore different instruments and look at how they are made and what they sound like.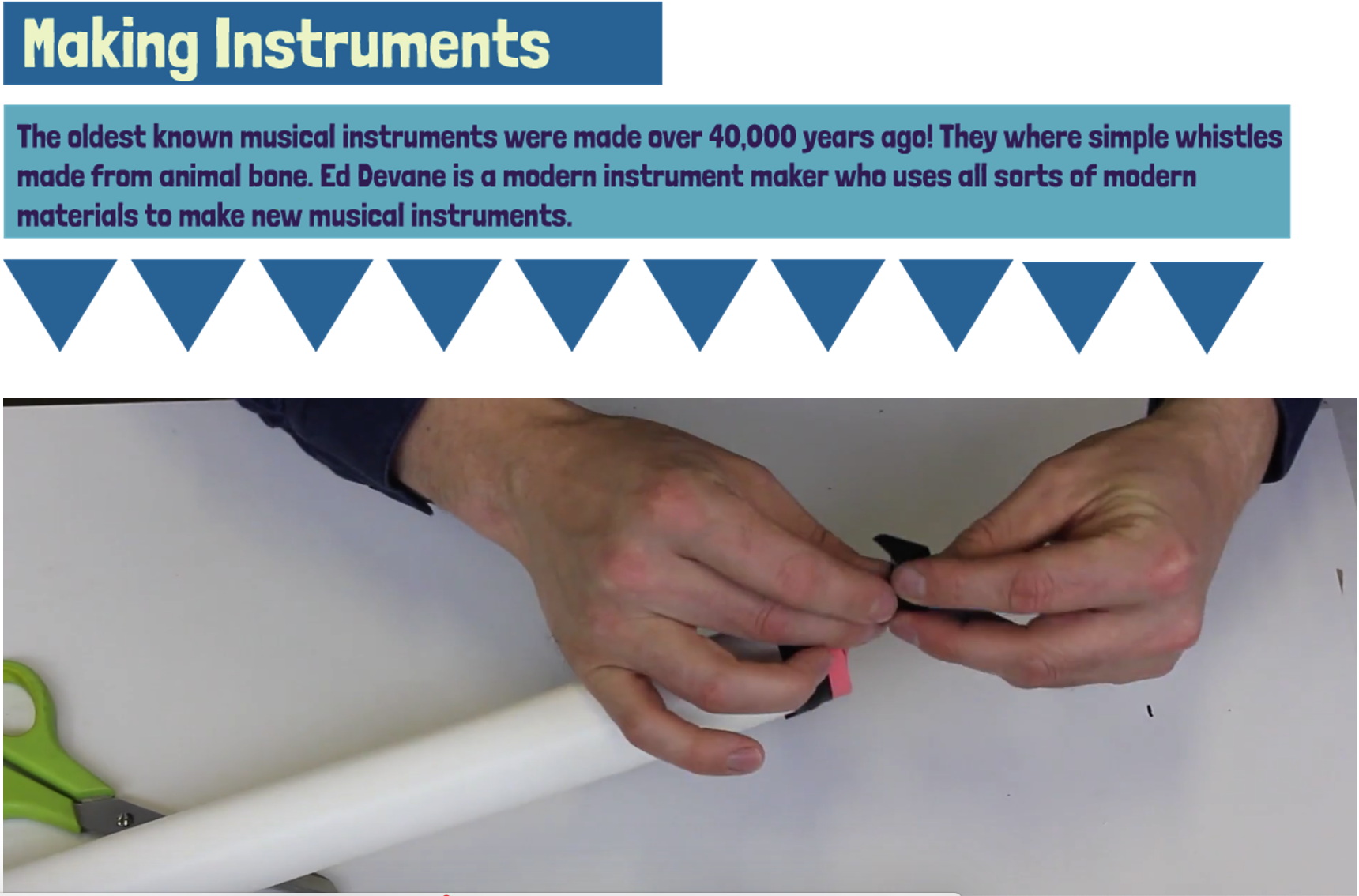 Strand Unit: Listening and Responding to Music
We have a huge range of listening material, short excerpts and songs for all classes to listen to. "Responding to music" refers to the active listening that takes place in the classroom: dancing, clapping along or tapping to the beat. This also includes talking about the music, discussing their likes and dislikes, how it makes them feel and imagining what the artist or performers are trying to convey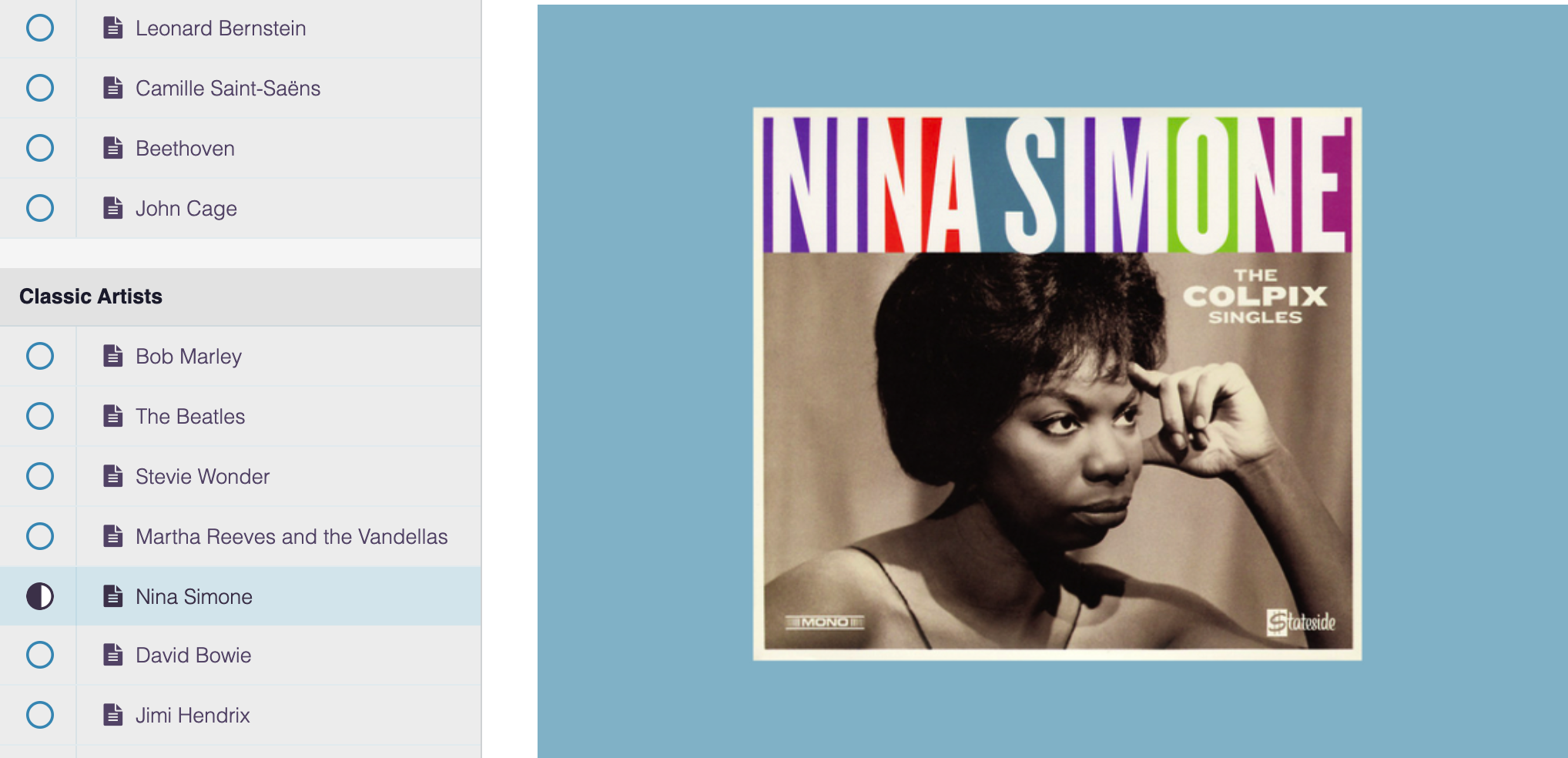 An important part of this strand is to foster an appreciation and understanding for other cultures through the exploration of different genres. For older classes the curriculum recommends listening to different styles and genres "recognising its function and historical context where appropriate". We have included a broad range of artist and musicians from Ireland and around the world, from European "classical" music to blues music to hip hop music. We also include examples of folk music from across the globe including. Music from Ghana, Liberia, Jamaica, Scotland, The United States and a series of Irish music lessons in March to tie in with St. Patrick's day and Seachtain na Gaeilge.
Our "Artist Profile" lessons include a range of influential musicians and bands with a brief history, examples of their music and worksheets for the class to explore their music and why and how they created it. These artist and bands include Nina Simone, Planxty, Daft Punk, Bjork, Beethoven and many more. This year we also have a very special selection of videos from current Irish artists including Donal Lunny, Anna Meike and Radie Peat.
To add to our collection of listening resources we have created a series of radio shows based around different themes. In each show we discuss the music and find out more about the artist and musicians. These shows come with full Spotify listening lists and are included in our parents content for exploring music at home which is included in our full curriculum content for schools.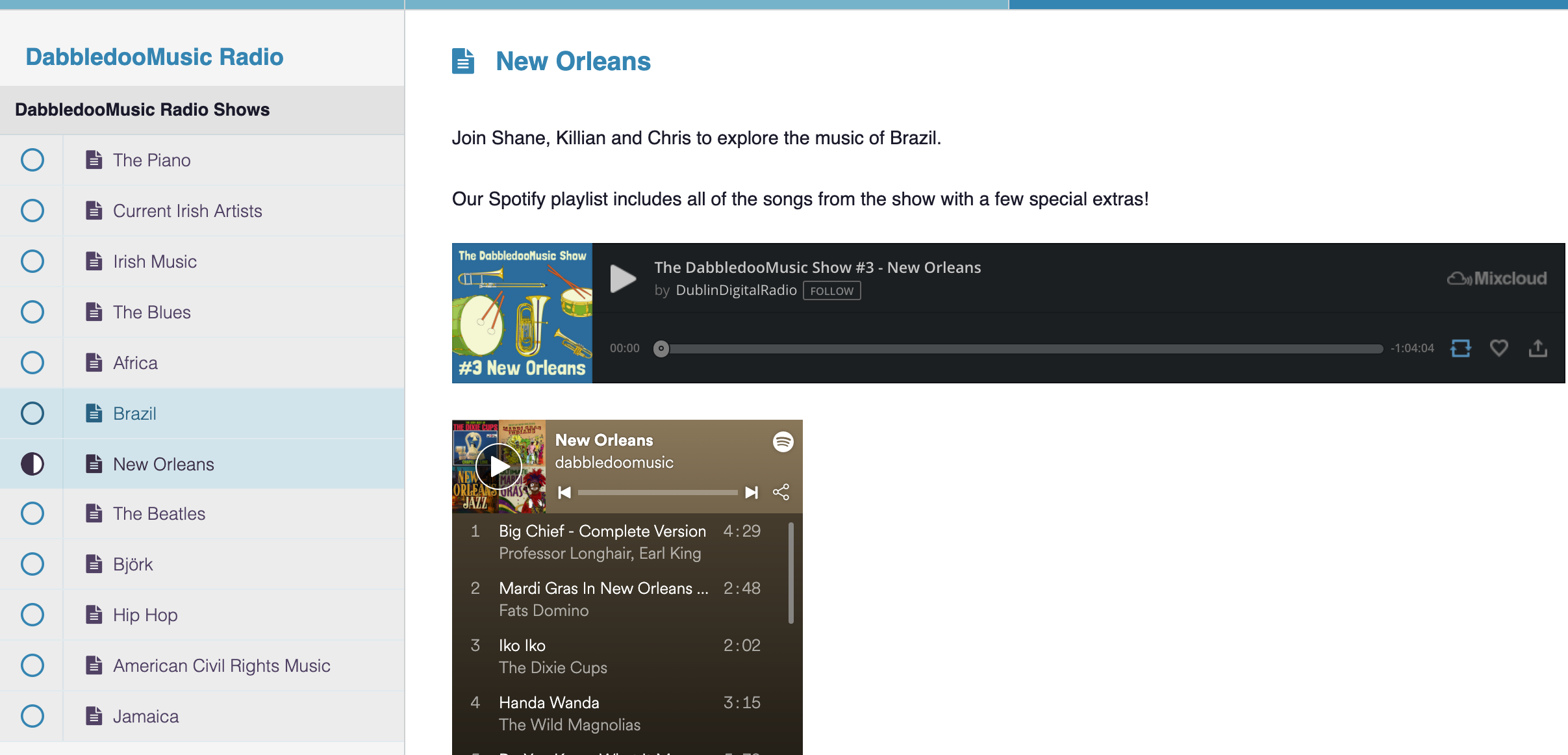 ---
Strand: Performing
Strand Unit: Song Singing
Our selection of songs also includes music from a range or traditions around the word. For younger classes these songs focus on simple, familiar songs, with fewer notes and repetitive structure or call and response elements. Infants classes begin with simple three note songs with older classes learning about five note scales and eventually the full major scale. All of our folk songs have been recorded with special backing tracks and in keys that have been chosen to suit each class. Our interactive resource "Jazz Cat" helps children to visualise the contour and pitch of a melody, through simplifies notation and tonic solfa, leading into the musical literacy strand unit. This year we have added a series of special videos by Julie Shanley, children's choir expert and graduate from the Kodaly school of music in Hungary. These videos explore how the voice works and give instructions in singing and breathing techniques that are great for the classroom or choir settings. For older classes we explore more notes and more complex songs including a selection of classic and modern pop songs.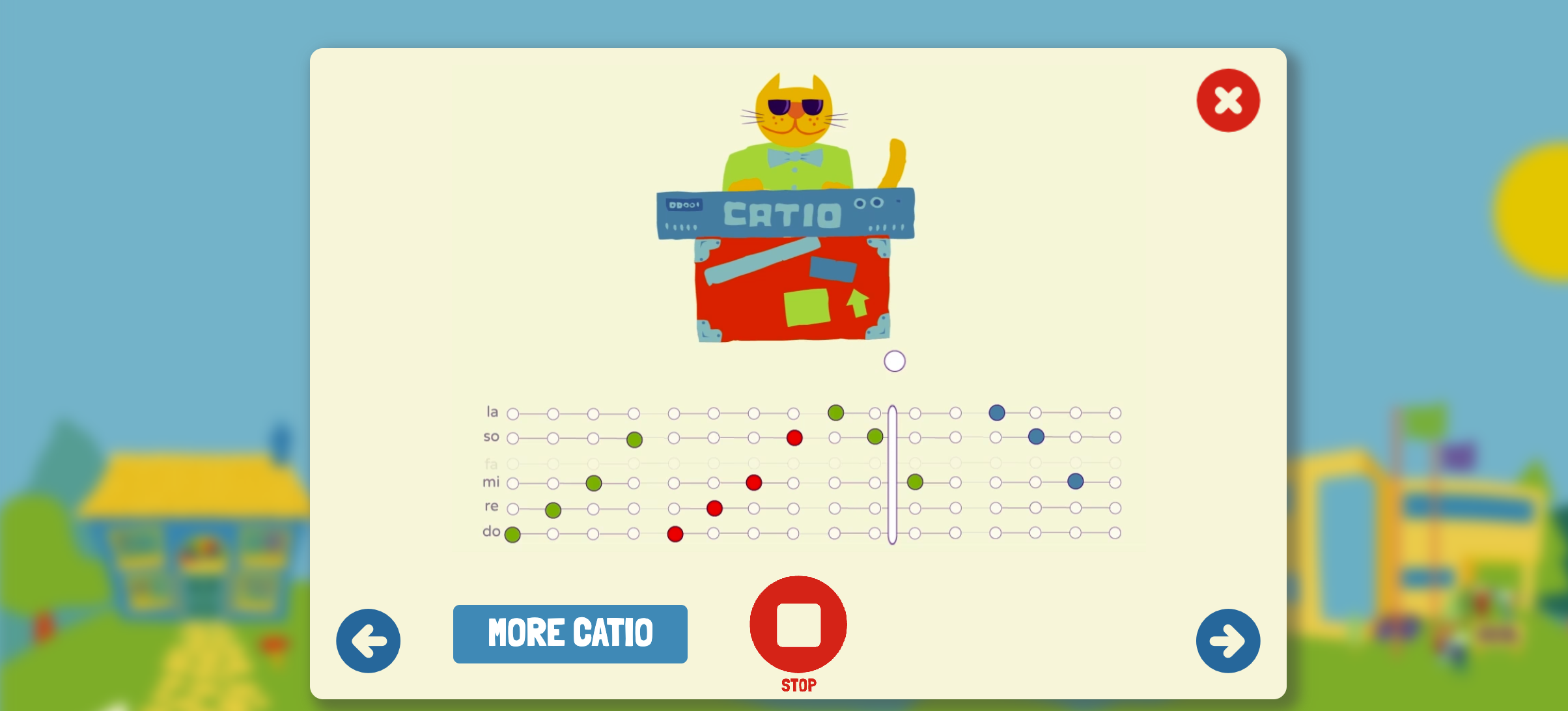 Song singing also gives us an outlet for each class to explore different themes and seasonal topics. This year we introduced lessons for Earth Day (22nd April) where we choose songs that have an environmental theme like Joni Mitchell's Big Yellow Taxi and Bjork's Biophelia album made with input from David Attenborough. As well as full backing tracks and singalong songs for a range of traditional Christmas songs, this year we are also looking at songs from different cultures around the world celebrating different winter festivals like Hanukkah and St. Lucia Day.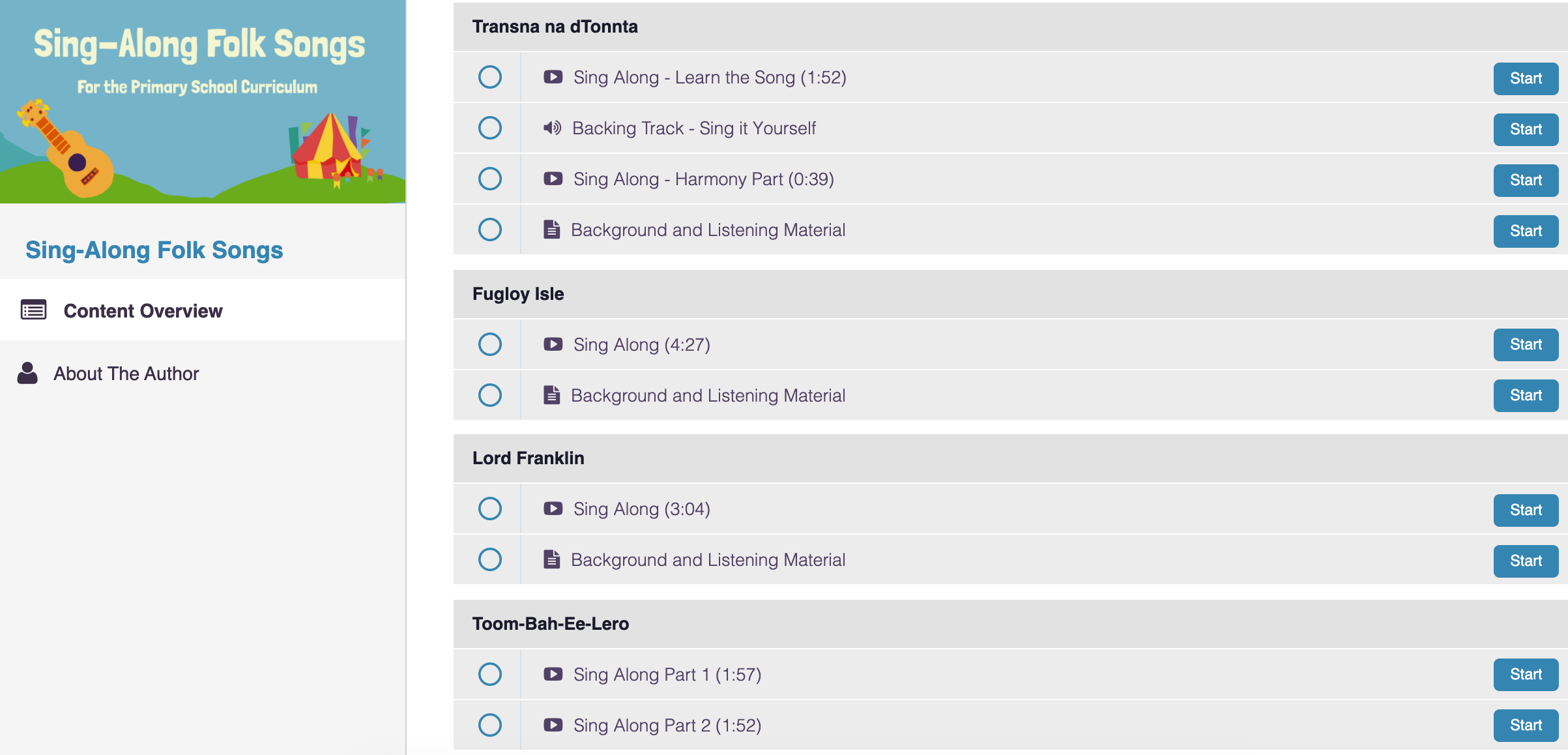 Strand Unit: Literacy
The music curriculum advises the use of simplified or graphic notation for younger classes: "Match selected sounds with their pictured source". The connection between sounds and symbols is something that we focus on with each class at the start of the year and develop throughout the classes. Using symbols to represent sounds is a great way to include composition and performance in simple lessons and activities. We gradually develop literacy each year using a range of simplified music notation to represent pitch and rhythms through singing and performing with instruments. From 3rd and 4th class onwards we transition to the use of standard symbols as recommended in the official music curriculum: "Recognise the shape (contour) of melodies on a graphic score or in standard notation".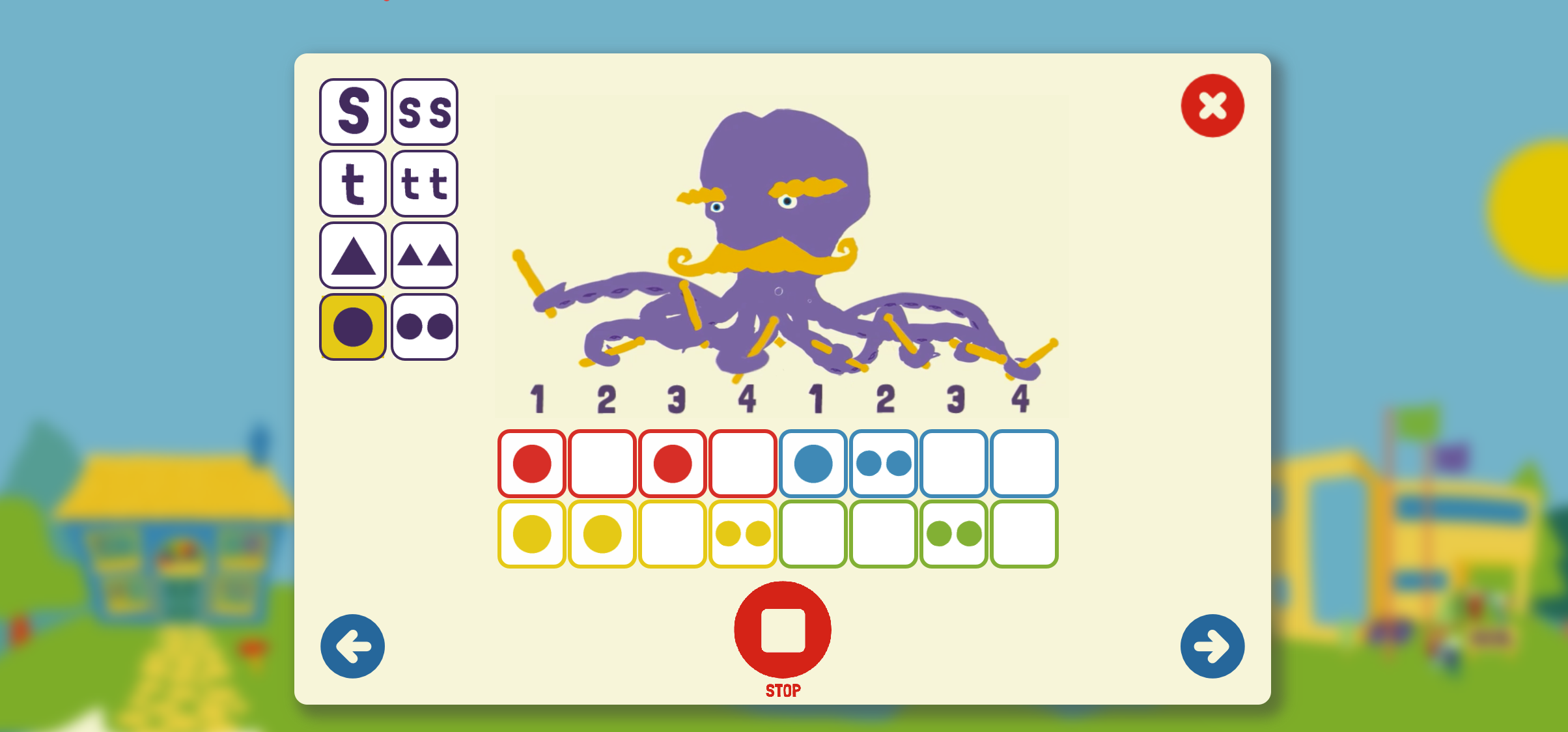 This graduated approach to using standard notation is designed to facilitate students and teachers with varying levels of music experience. In our composition lessons there is always room for more musically experienced children to use musical knowledge and skills they have acquired outside school, particularly in terms of musical literacy.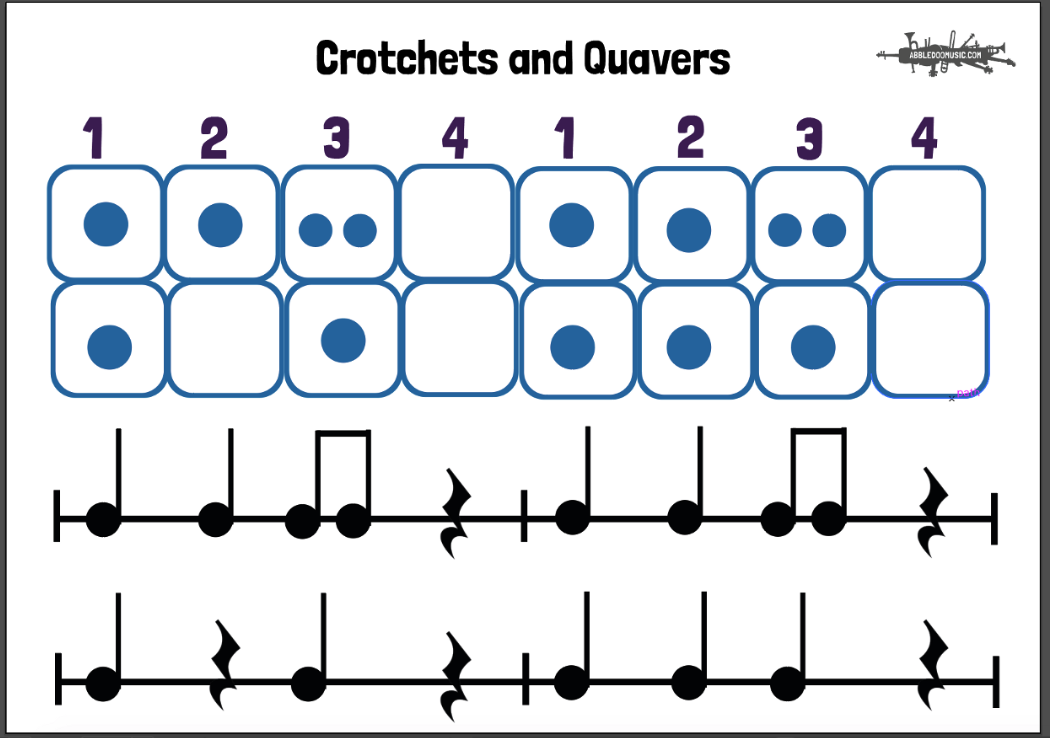 Strand Unit: Playing Instruments
Our unique system of interactive resources make it easy to get group performances happening in the classroom. Our colour coded system makes it easy to divide up the class into different sound groups and the animated notation makes it fun and simple to arrange performances with the whole class. Any instruments can be used with our performing activities from body percussion to homemade instruments to simple percussion instruments. Our performance lessons allow children to embody concepts like pulse, texture and pitch while enjoying a fun shared experience with their classmates and teacher. Our "Igor" resource is designed to help children count bars and feel the pulse in a performance while also tying in with the literacy strand.
Other performance pieces across all classes draw on songs that they previously learned through singing like "Hill and Gully Rider" and "Che Che Kooley". Performance also crosses over with the Listening and Responding strand with the children performing different styles and genres of music from simple folk songs to electronic music from Irish composers and producer Eomac and German electronic pioneers Kraftwerk.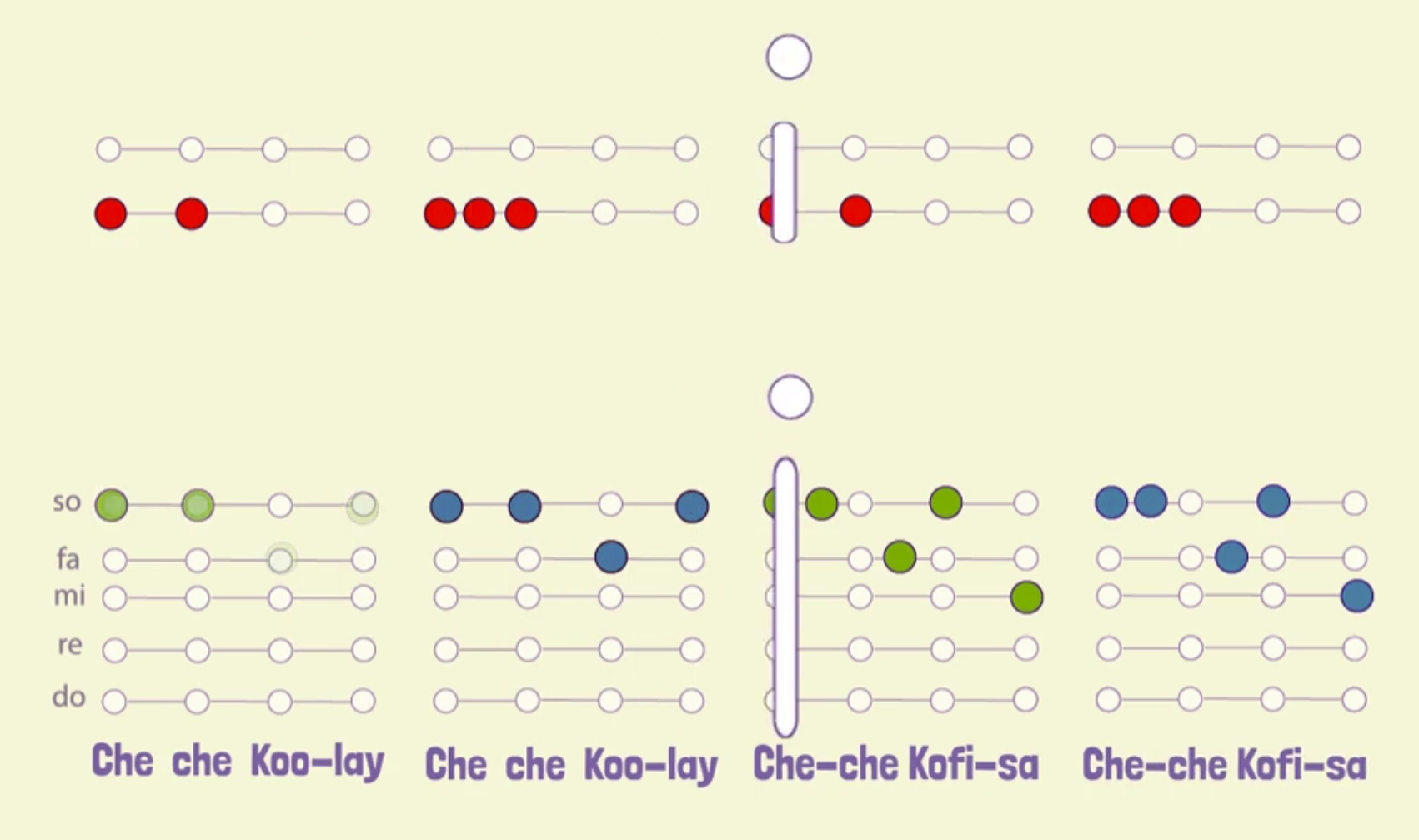 Using instruments is also covered in our advice to schools based on the recommendations from the Department of Education for the schools reopening.
---
Strand: Composing
Strand Unit: Improvising and Creating
This section develops from the Exploring Sounds and Literacy strands where we focus on environmental sounds, vocal sounds and the use of simple instruments to create short pieces of music. Improvising and creativity is also a key element of our performance lessons like The Clock. The interactive resource organises the structure of the performance but the children are responsible for deciding the musical material. This could be inventing a rhythm with a shaker or exploring different vocal sounds. Our lessons encourage the children to work both as individuals and as part of a group to make these performances more collaborative and to encourage team work.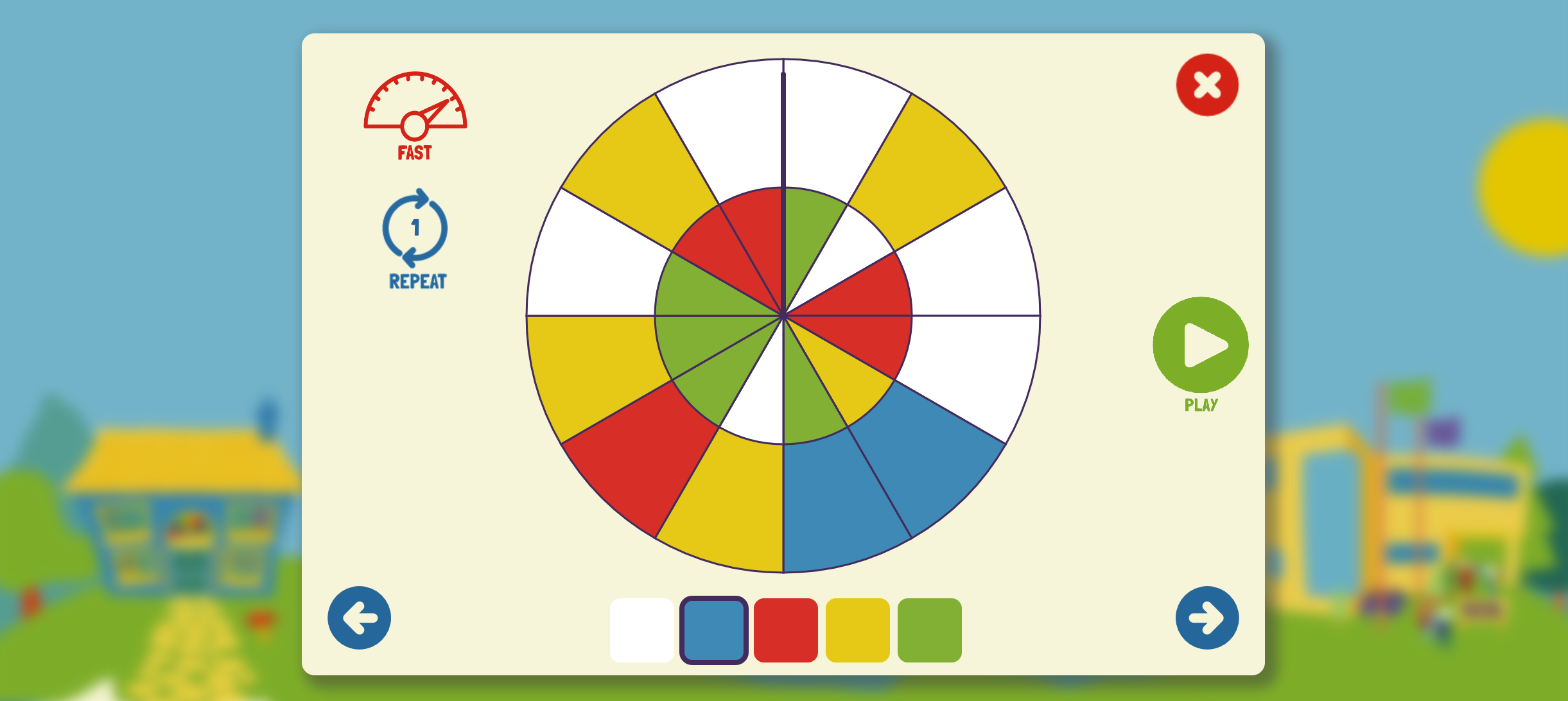 Strand Unit: Talking About and Recording Composition
Graphic notation is also an important part of recording a composition. "Invent graphic symbols or use standard notation to represent selected sounds". We develop the connection between sounds and symbols with each class to allow them to organise their musical ideas into sequences and performances. A good example for the infant classes is the Morning Sounds composition, where the class think of sounds they hear in the morning time, create symbols or pictures to represent each sound and then put them in a sequence. This simple use of graphic notation develops with the older classes into using performance instructions, numbers and standard notation to create their compositions and create their musical score. Lesson like School Walk Composition and Create a Film Score allow older classes to explore a range of compositional techniques that are fun and engaging for you class.
---
Parents' Content
During the school closures we developed a full parents' section at dabbledoomusic.com with our most accessible and fun activities for exploring music at home. This content includes all of our curriculum songs and listening material including all of our DabbledooMusic Radio Shows. We have also created a range of activities specially designed making music at home.
We have added the parents' content to our full school subscription and we hope this will help both children and their families enjoy all the benefits of music throughout primary school.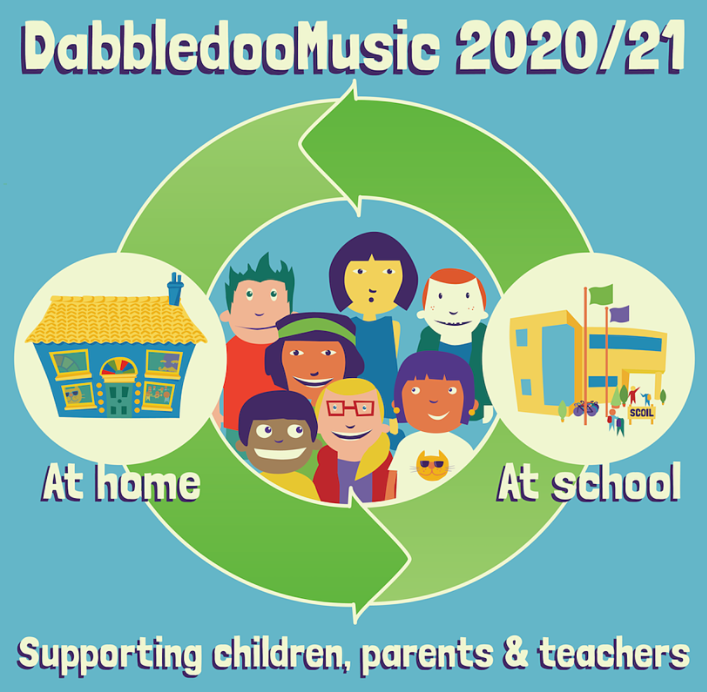 ---
Teachers Manual
To assist teachers in their preperation for music lessons this year we are piloting new teachers manual content. This will be included along with the planning content at the start of each month. We will be releasing the teachers manual on a month by month basis throughout the year
The teachers manual will consist of a one page summary pointing out the resources needed, the suggested time required for each lesson and a brief walk through of the lesson with extra tips and advice to teachers: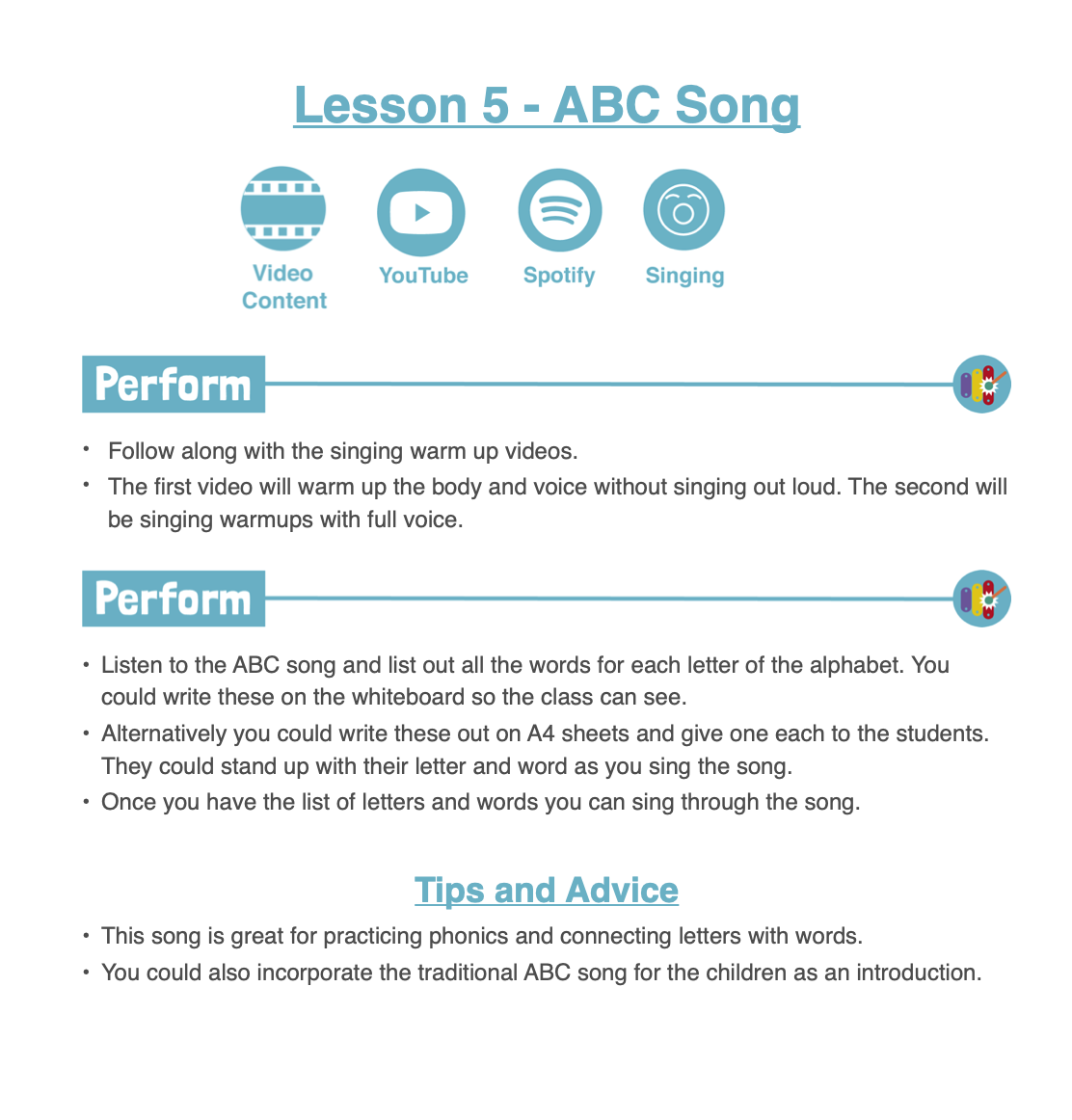 ---
Signing up to DabbledooMusic

If you or your school are interested in signing up to DabbledooMusic for the 2020/21 school year please get in touch: [email protected]
You can find out more about the options for full schools and individual teachers here:
GO TO DABBLEDOOMUSIC SUBSCRIPTIONS