We've made our content even more accessible to help teachers and children get back to music in September.

The start of this school year will be a busy one for teachers, with a lot more planning and preparation. We've already seen the amazing effort that schools and teachers are putting in to get ready for September and we have spent the summer making sure our music content is easier than ever to access for teachers and children alike.
This year, even more than usual, music will be an important way for children to connect with each other and to enjoy shared social experiences in a fun and safe way. We have made a number of practical changes that will help teachers and children get back into the music making this September.
---
New Content
We have added a huge amount of new content for this year that will help students and teachers find fun, accessible and safe activities for the classroom. This includes new interactive resources, a pilot teacher's manual, new design features and a number of new video lessons from DabbledooMusic and from a selection of Irish artists, musicians and educators.
We have once again added to our interactive resources with a range of new activities including four new version of our Front Door resource. Infant classes will get to practice the sounds of different letters and animal sounds, while fifth and sixth class will explore the different timbres of a range of instruments, from the electric guitar to the French horn.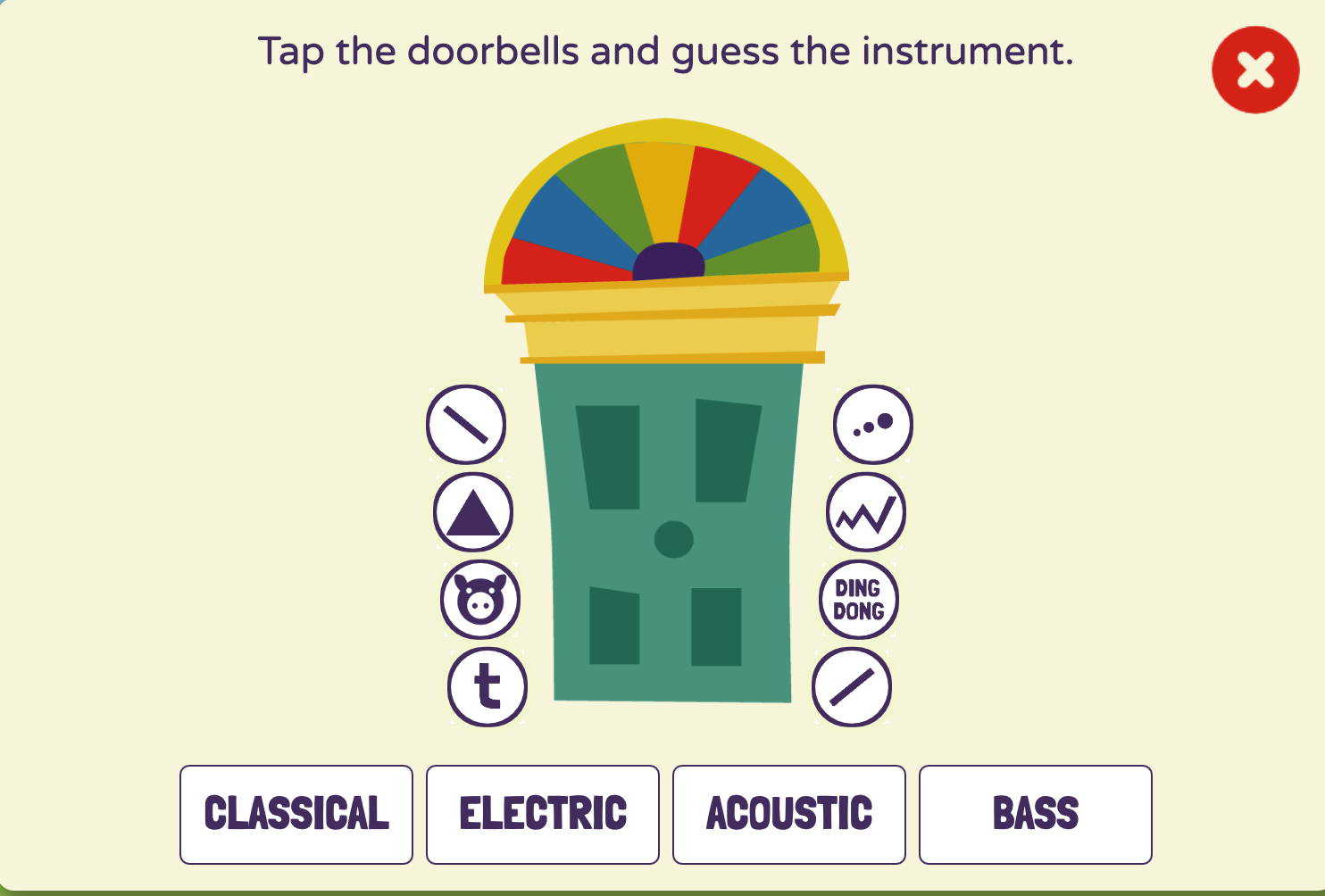 We have added a series of singing warms ups for the whole body with singing expert and children's choir leader Julie Shanley. A number of these videos contain non-vocal warm ups that are great for stretching, breathing and relaxation for the children. Theses warm ups have been added to all of the song singing lessons across all classes. As the children progress through each year the singing warm ups become more challenging and introduce a wide range of notes based on the songs being covered.
Our new video content for this year also includes a focus on different instruments, from the four main types of guitar to the four main brass instruments. We also have special videos from Irish rapper, producer and educator Gary McCarthy about using words to make rhythms and learning how to rap for older classes.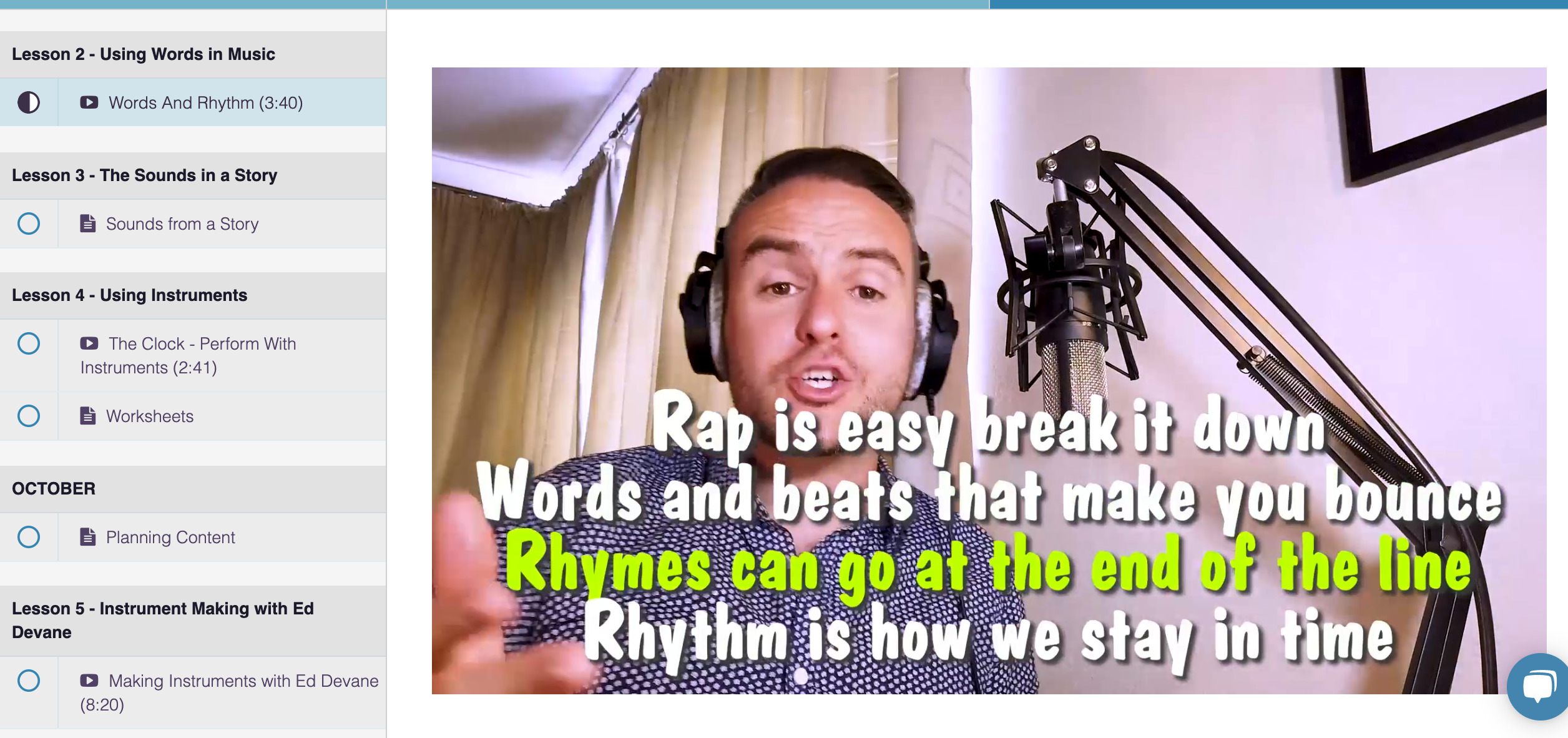 We also have a series of beautiful videos, recorded during the lockdown, by some of our favourite Irish artists including Anna Meike, Donal Lunny and Radie Peat. Each artist recorded two songs for the children to listen to with an introduction to their own music and sing-along song. These videos are included in the full curriculum this year and are also available to purchase in our "Irish Artists Vol 1 Collection"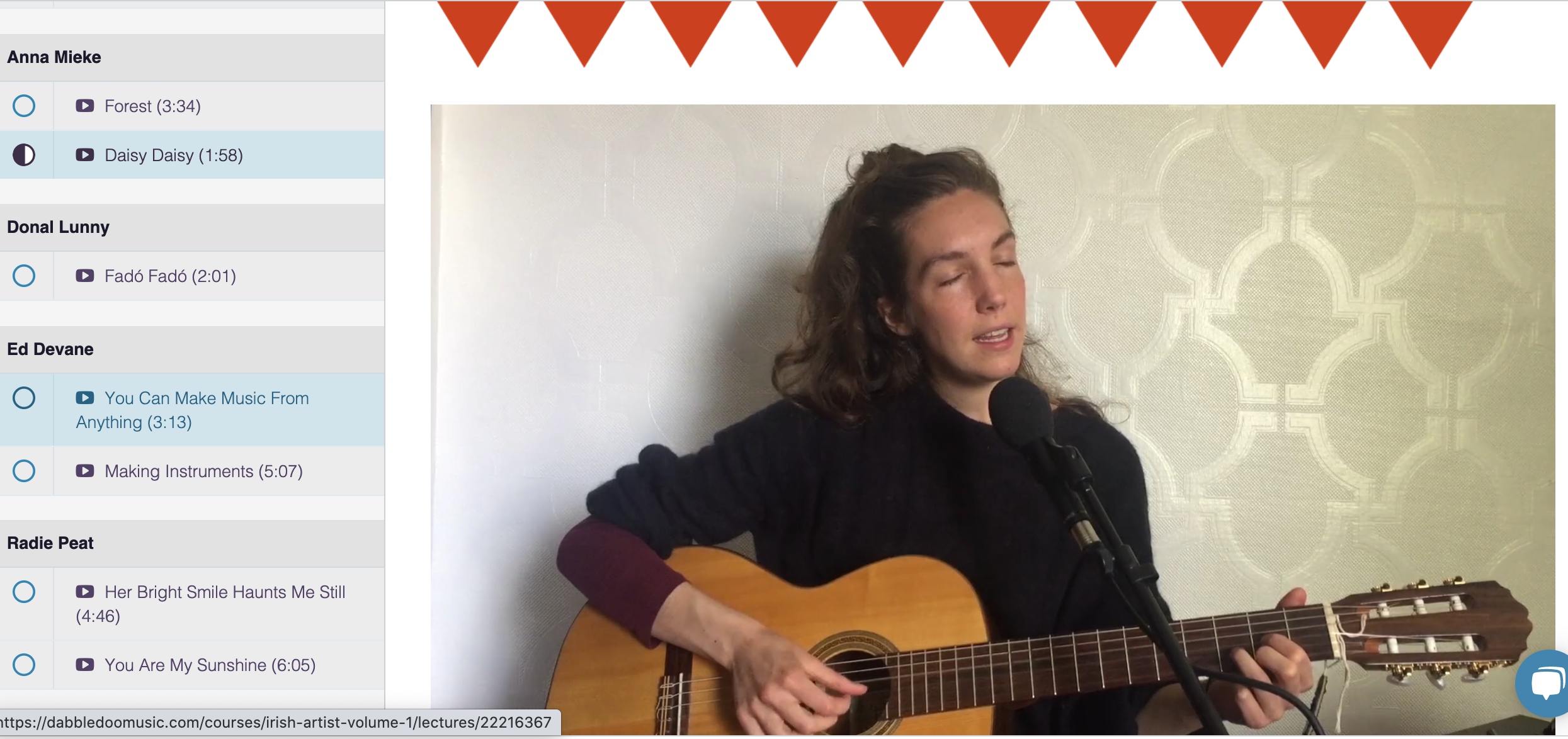 ---
Teacher's Manual
This year we are piloting a special teacher's manual to help teachers prepare for lessons and give them extra tips and advice on music making in the classroom. Our lessons are delivered through an online platform containing all content needed for each class, video, audio, worksheets, interactive resources, posters and more. The teacher's manual will be a one page summary of the lesson with special icons at the top of the page to let teachers know what they'll need for each class including a suggested time allocation.
The teacher's manual will be released on a monthly basis throughout the year and we will be taking feedback and adding to the content as we go. We are sure this will be a huge help for teachers planning music lessons this year.
The teacher's manual will be available along with the monthly planning content each month.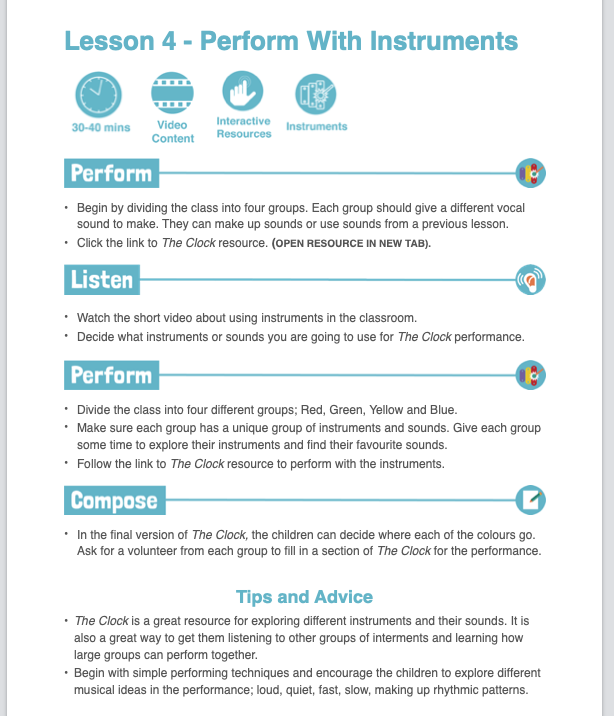 ---
Lesson Flow Improvement

To tie in with the new teacher's manual we have adapted each of the online lessons to make sure the text can be delivered more easily in the classroom. The lesson content will be in the teacher's voice so teachers can use it to communicate directly with their classes.
Any extra advice about the lesson or content to do with the curriculum aims and objectives, assessment or integration will be done through the teacher's manual.
---
Lesson Design
We have adapted our lesson design to make it easier to navigate between the online and in the teacher's manual. The main strands of the music curriculum are used as headers throughout. Each activity is divided into Listen, Perform and Compose sections, also linking with the teacher's manual.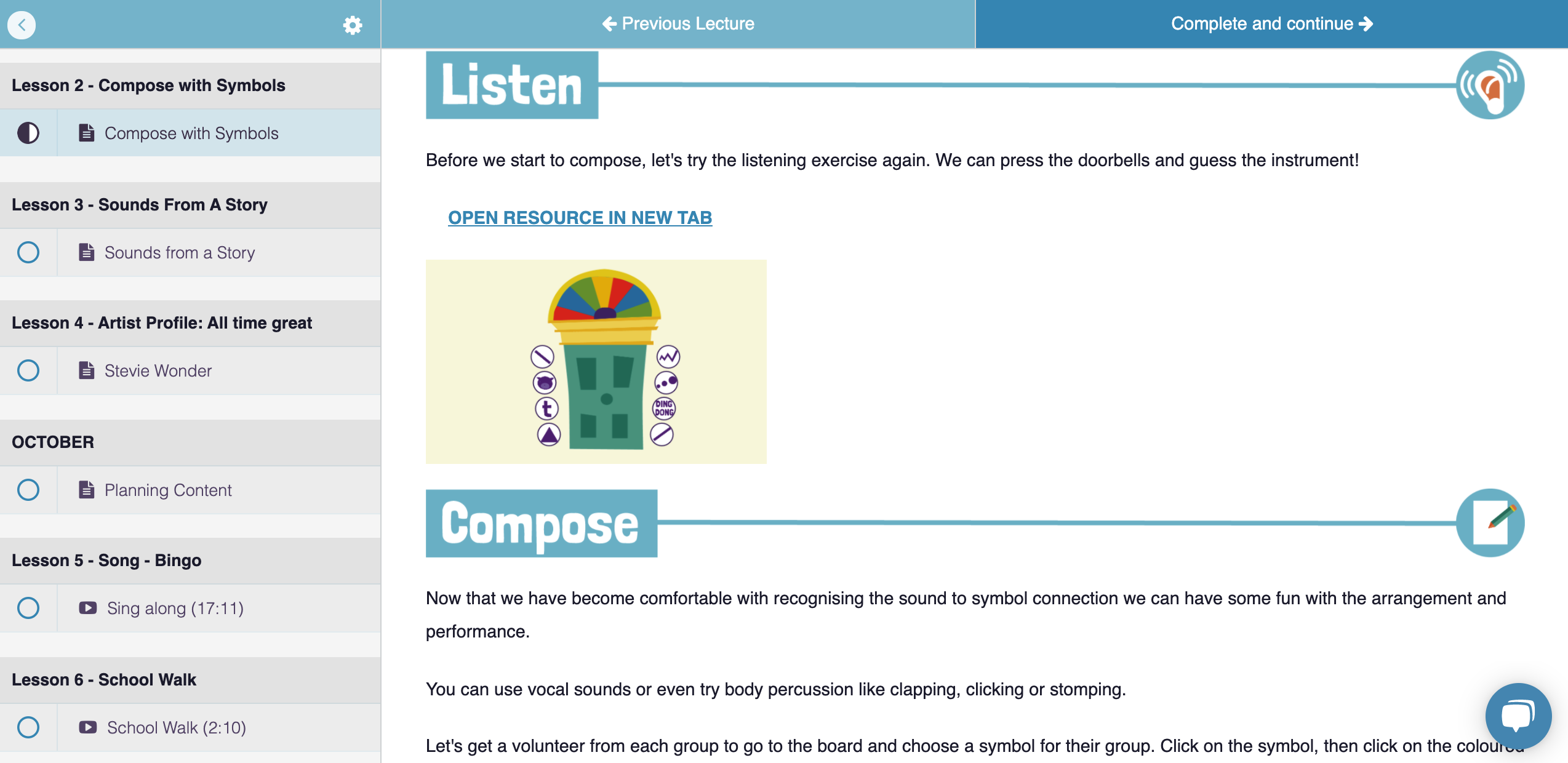 ---
Interactive Quizzes
To help with the listening and responding section of the curriculum, we have added a series of interactive quizzes. They accompany much of the video or listening content and encourage the children to focus their listening on different musical elements and ideas.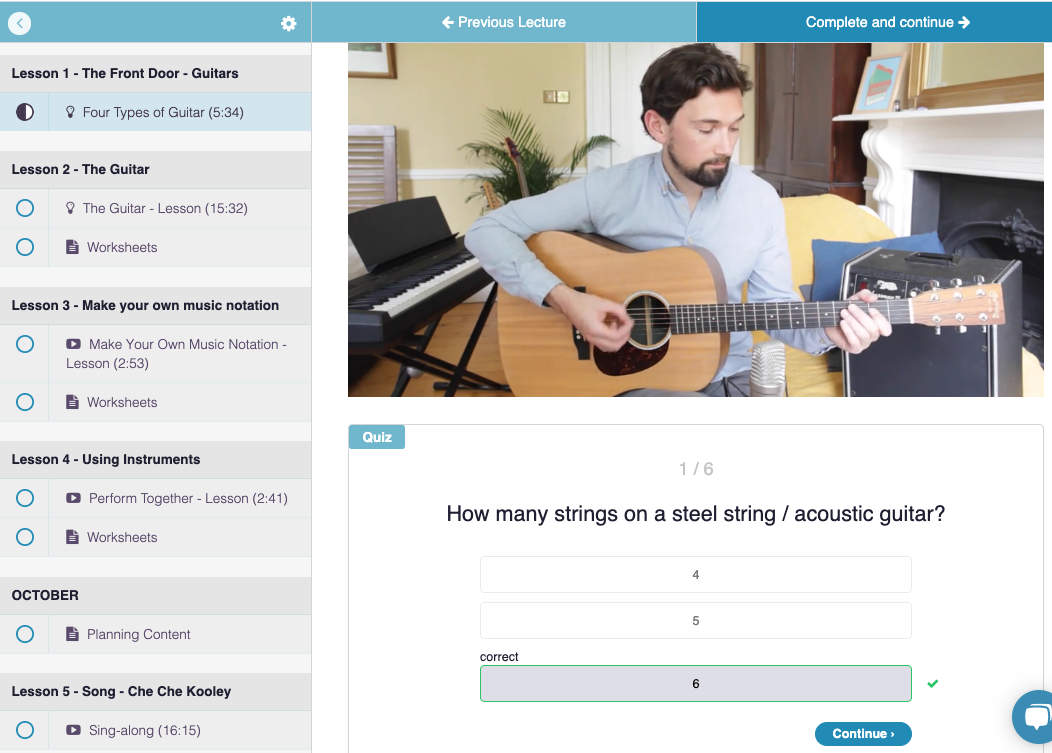 ---
Parents' Content
The DabbledooMusic full school subscription now includes free access for parents to our special parents' content. This content received a great response during the school closures and we will continue to add new content suitable for enjoying music at home.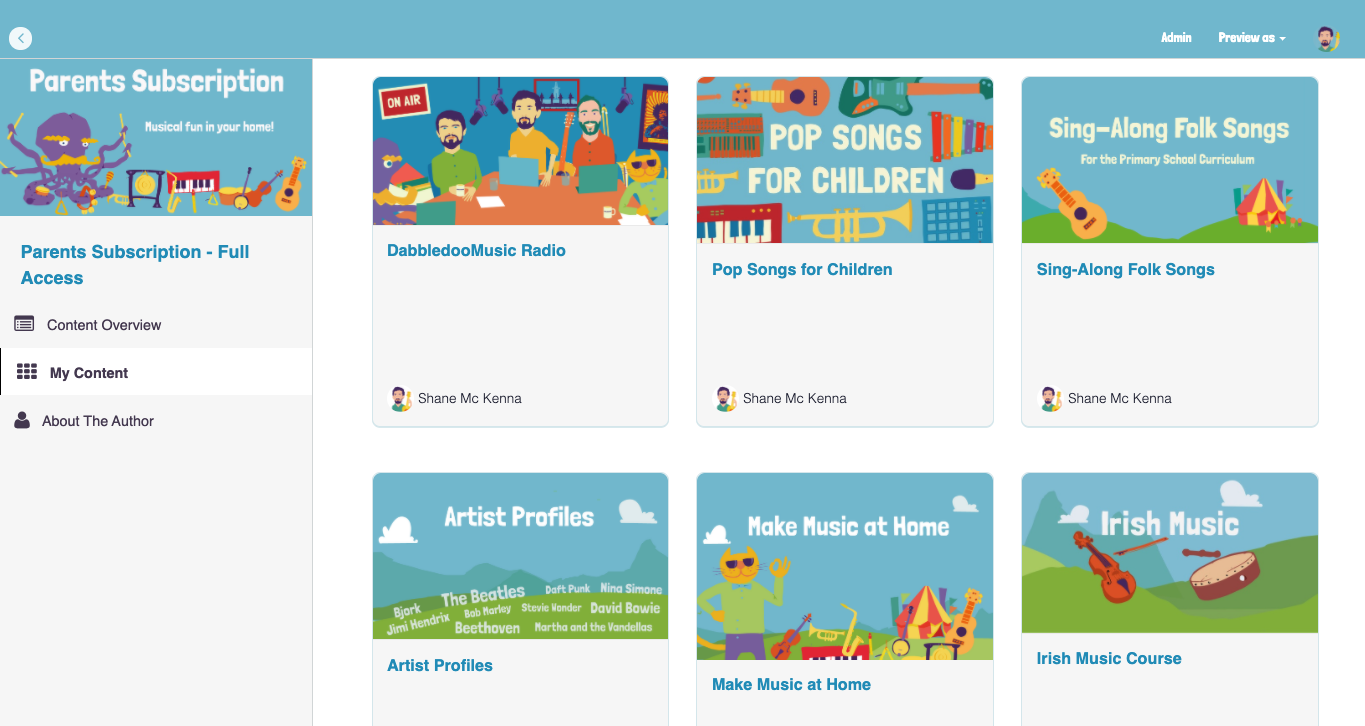 ---
Signing up to DabbledooMusic

If you or your school are interested in signing up to DabbledooMusic for the 2020/21 school year please get in touch: [email protected]
You can find out more about the options for full schools and individual teachers here:
GO TO DABBLEDOOMUSIC SUBSCRIPTIONS