The magical time of the year is upon us again and, after the year we've all had, everyone has earned the right to kick back and enjoy the Christmas season.
One of the things we all look forward to at Christmas is the abundance of great music. While sometimes the over-abundance becomes irritating (like when you're queuing in Dunnes and hear Feliz Navidad for the fourth time in 15 minutes) music is often the first trigger to fill us with festive cheer.
For children especially, the exposure to Christmas music helps make the season even more magical for them. Not only this, but it can also help grow their own personal love for music even more. So whether it's at home or in the classroom, here are our top 5 ideas for engaging children in Christmas music over the coming weeks:

1. Singing Songs Together
As we know, this has to be a very different Christmas and, at the moment, the advice is that singing activities should be help in a socially distant setting and where good ventilation can be maintain. However, that doesn't mean we have to stop singing - we just have to get creative about how we do it. So that could be meeting friends in a park to sing carols or belting out your favourite Christmas hits at home with your family pod. With the challenges that everyone has faced this year, doing activities that boost our mood has never been more important and nothing can lift spirits quite like singing Christmas songs with the people we're closest to.
To help with this, there are lots of karaoke versions of Christmas songs on YouTube that you can search for and sing along with. At DabbledooMusic, we also have a free Christmas songs course which you can sign-up to for free and access our backing tracks for some classic Christmas songs:

2. Watching a Christmas Show Online
Unfortunately, going to see the panto or even attending a carol service are not going to be possible this year, but there are many fun Christmas shows being held online this year which can be enjoyed in school or at home with your family. Watching shows online can still be a great way for children to engage in singing songs and in fun musical activities.
Here's some links to 2020 Christmas shows that might be worth checking out over the coming weeks:
- Schoolsdays.ie Online Christmas Panto Listings
- DabbledooMusic Christmas Show: Quest for the Jingle
- Free Online Christmas Show Listings on Eventbrite
3. Listening to Christmas music
It won't be like you'll have any choice on this one as Christmas music will be playing everywhere, but why not pick out some of your favourite songs and put together a playlist either for playing in the classroom or at home. There's so much diversity in Christmas music from songs with lush orchestral arrangements to pop classics. Encouraging children to listen to music regularly is an important way help build their relationship with the subject and introducing them to this through the Christmas music genre can be a great place to start. .
There's lots of great playlists already created on sites like YouTube and Spotify which you can access including our own Spotify Christmas Playlist here:

Another great way to listen to Christmas music is to tune in to the radio. Ireland's Christmas FM play wall to wall Christmas songs for the full month of December and they also do it to raise money for some great causes. You can listen to them online here: https://christmasfm.com/
Last year at DabbledooMusic, we also released a Christmas radio show on Dublin Digital Radio. You can listen back to that show here:
4. Christmas Movies
Christmas movies are a must for this time of year but lots of them also have great soundtracks which can introduce children to some amazing music. Lots of them have great big orchestral parts while others have some really fun sing along classics.
Here's 5 of our favourite musical Christmas movies for kids in no particular order:
- The Snowman
- The Grinch
- Home Alone
- Muppets Christmas Carol
- Polar Express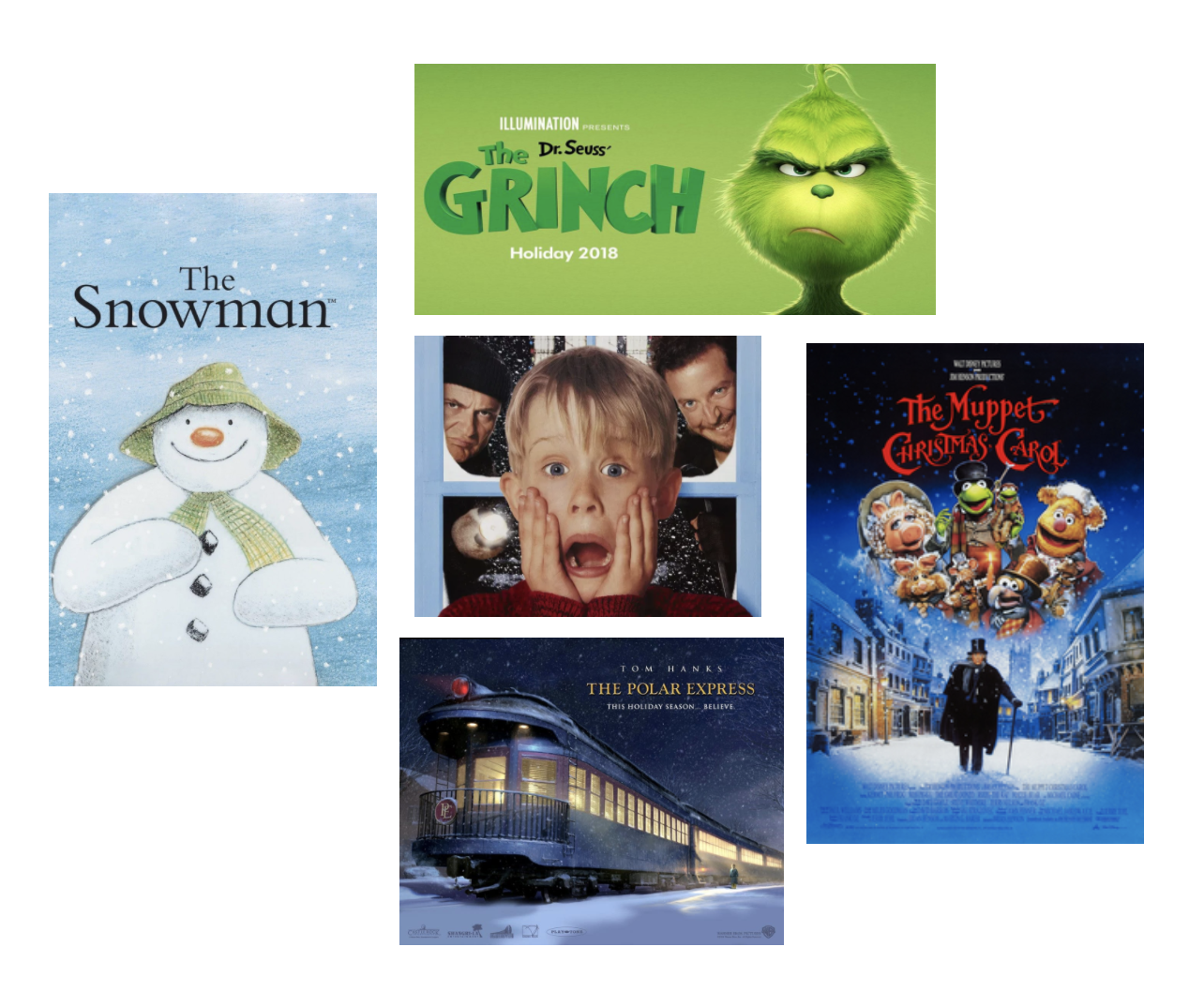 5. Playing instruments
Along with singing, getting children to perform Christmas songs with instruments is a fun way to involve them in musical performance. This could be a simple activity such as asking them to play percussion lines along with a Christmas song. Here's an example of this where you can split the group into 4, assign them each a different colour and get them to play along using instruments or percussive sounds with this special version of Jingle Bells we've produced:
Beyond this type of group activity, if any of the children in your class play instruments, encourage them to spend some time learning to play Christmas songs. There are some really easy Christmas songs that beginner instrumentalists can play like 'Silent Night' and 'We Wish You a Merry Christmas' and then there are some tricky more challenging melodies for more advanced instrumentalists like 'Rudolph' and 'Sleigh Ride'. Whatever level a child is at, learning Christmas songs on whatever instrument they play can be lots of fun and can help them improve their technical abilities.

I hope this list gives you some good ideas for ways to make music in your homes and classrooms this Christmas! Please let us know in the comments if you have any other suggestions.
Merry Christmas!
The DabbledooMusic Team