Throughout the school closures, we have been sending out our suggestions for musical activities to thousands of families across the country and have been delighted to hear how much music has made a difference to their experience of lockdown. Music is a great way to spend time together as a family and share a positive and enjoyable experience; whether it's through listening to your favourite music or by playing, singing, and dancing together.

Here at DabbledooMusic we have also embraced the magic of Irish music and song to help us through the lockdown. Each of us has taken on a new instrument since last March and we've been learning as many jigs and reels as we can. Whenever the next Fleadh Ceoil is on, we'll be ready!
We are also aware of the huge talent and interest in Irish music across the country so we decided to get our own "Sofa Sessions" on the go to spread a bit of fun and craic for March 2021.
We have created a couple of family-friendly musical activities that you can record and send to friends and family around the world. We are also going to put together a compilation video of everyone playing together from all the videos we receive!
If you would like to take part in this project, you can record your family's performance and send it on to us to be included in this fun video which we'll be releasing for St. Patrick's Day. All the details of how to get involved are below!
How to Record Your Performance
If you would like to record your performance on a phone either for friends and family or to send it to DabbledooMusic for our St Patrick's Day video, you can do so with a simple smartphone. Make sure you position yourself so that any lights or windows are behind the camera. That way there should be nice light on the subject of the video: you!
We have made 2 special videos to help you perform together. It's best if you view these on the largest screen you have, either a laptop or TV. Whether you are singing solo or all playing together, you can turn the volume up on the backing video to keep everyone in time and to have a nice balanced sound for your video.
Here's a summary of how we recommend you shoot your video: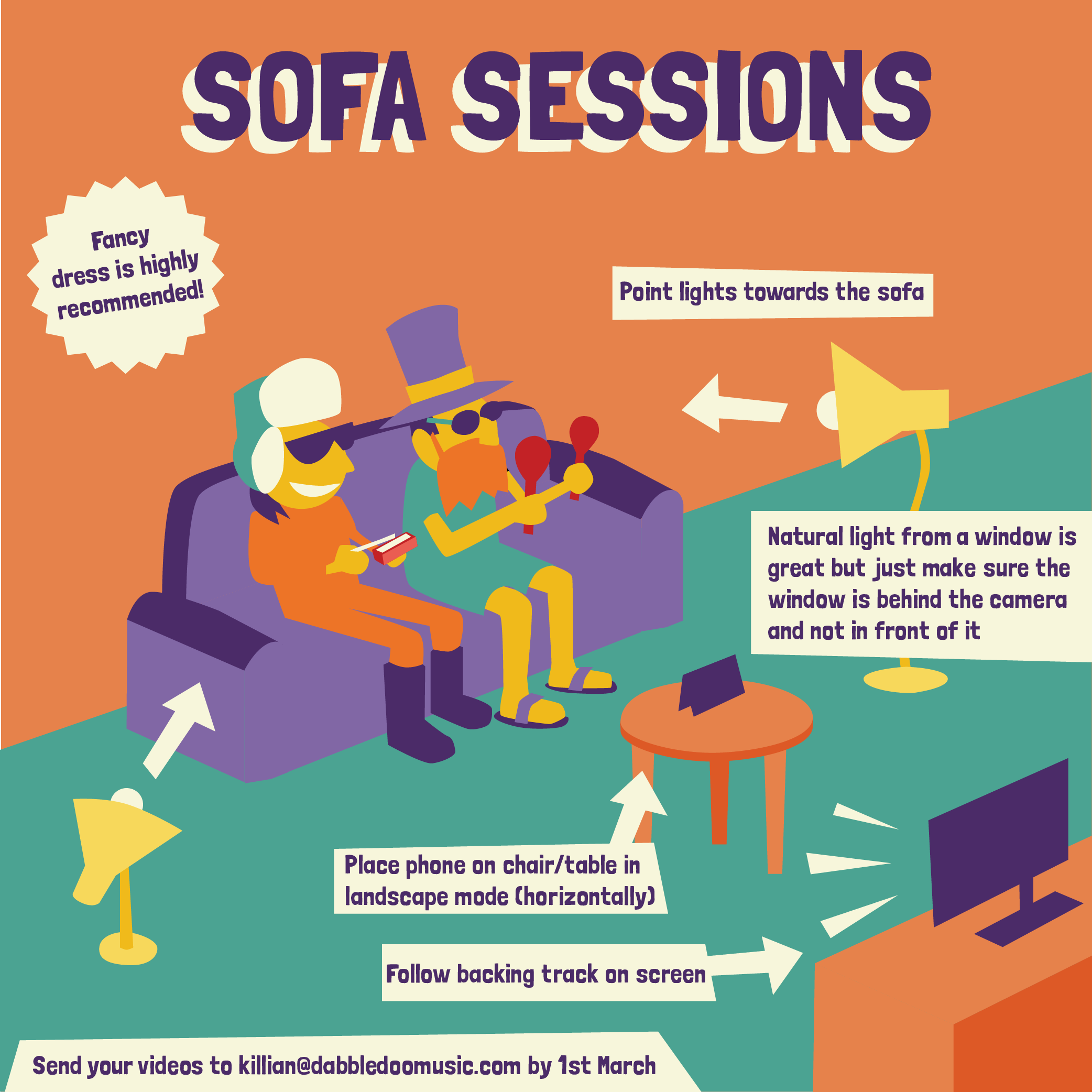 Send Us Your Videos!
We are going to put together a very special St Patricks' Day video to celebrate all the great singing and playing happening around the country. If you would like to send us your videos from the two activities below you can do so via WeTransfer by sending it to [email protected].
We will be adding this video to our YouTube channel and sharing it on social media so, if you do want to send us a video, please also click here to complete our media consent form.

---
1. Trasna na dTonnta
This is a song from Gweedore in Donegal about being at sea and looking forward to returning home to Ireland. It's a song that many parents and grandparents will know from their days in the Gaeltacht learning Irish, so it's a great one to share with friends and family abroad.

We have created a sing-along karaoke-style version of Trasna na dTonnta for you to try but first, let's warm-up our voices and listen to the song!
---
Warm-ups Before Singing
Before we start singing, it's good practice to warm up the body and the voice! Let's start with our bodies:

Now let's warm up the voice:


Now let's listen to the full version of the song sung by Susan Hurley.
Finally, here's the sing-along version of Trasna na dTonnta. Get ready to record your performance.

---
2. John Ryan's Polka
Next up, we have one of our most popular resources of a famous traditional polka called John Ryan's polka (you might know it from the film "Titanic").
For this performance, we are going to need to use some instruments. These don't need to be traditional instruments, you can use whatever instruments or sound-making objects in your house.
Now we are ready to perform. Each person needs to choose a colour (yellow, red, green or blue) and a different instrument each. If you are recording your performance make sure everyone fits into the shot. If you are making this to send to friends and family they will love to see you dressed up, using unusual instruments, and having loads of fun! Try out different ways to make the performance your own!
Best of luck!