As we near the end of the year, we thought it might be nice to start a new tradition of a final soapbox post of our learnings and thoughts from the year. Whether you're a teacher, parent or music enthusiast we hope that by continually sharing our growing knowledge of music education it might help you with your approach to either learning or teaching music.

So here we go. Our 3 random musical musings from the year are as follows:
1. Engaging with music helps inform other aspects of your life
Paul McCartney released his 17th solo album this year called Egypt Station. As part of his promotion for the album, he did a lot of interviews which invariably resulted in a lot of questions about his time in The Beatles.
One such interview was with Jarvis Cocker where he spoke at length about the recording process in the early days of The Beatles. He mentioned their routine would be to record in Abbey Road Studios during the day and then they would have the evening free. As he was living in London at the time, he said that very often they might go to the theatre and see a play. The interesting thing McCartney mentioned about this, was how he felt that experience would somehow inform and help inspire the next day's recording session.
This resonated with me as I have often been at a gig, listening to a band play and a new idea or solution to something pops into my head. It's almost like experiencing music and other arts form are the creative fuel we need to help inspire us and develop new thoughts that will help us in all sorts of aspects of our lives.
So our advice is that no matter what stage of life you're at, investing time in going to musical and artistic events is worthwhile. By being exposed to other people's ideas and interpretations (even if you don't like it) it can have a knock-on effect on your own ability to create and innovate.
2. Throwing yourself into music creates purpose and identity
Mental health is such an important thing for all of us to be conscious of. Whether it's stress with work or with relationships, negative thoughts can foster and eat away at us. That's why I think developing creative outlets can be the antidote for feelings of stress or depression.
What's good about throwing yourself into an activity like music in my opinion is that the activity never changes. The same constants still exist. No matter how bad your day has been, a piano will still have the same amount of keys, a guitar will still have six strings. There's something reassuring about pursuing an activity with that consistency that helps a person regain their sense of perspective.
Of course it doesn't have to be music; it could be cooking or making model airplanes. But music is something people can do at any stage of their lives. It's also got many different options for how you engage with it, as well as being something you can do on your own or with others. The simple process of doing something completely outside of the things that consumes most of our lives creates that important balance vital to our mental health.
3. Find the right way for you to learn an instrument
Many people seem to live regretting either having giving up learning music or never having pursued it in the first place. With the New Year around the corner, undoubtedly resolutions will be set to take up that instrument 'I've always wanted to learn…' But before you do that, planning the method and means with how you will learn is important.
Back in October, I started to teach myself guitar. I am about 2 months into it and really enjoying it. I am conscious it might have been easier for me because I have learnt other instruments in the past but oddly I always had a weird notion that I wouldn't be able to play guitar.
These are the few things that have worked for me when learning the guitar:
- Picking songs to learn that I like to listen to - the first few song I have learned have all been by artists I like to listen to namely The Beatles, Radiohead, David Bowie and Tom Waits. I tried to find easy songs with not too many chords and then, as I get better, progress to harder material from there.
- Leaving the instrument out in the sitting room - my guitar sits out of its case right beside the sofa so that any time I am having a cup of tea or waiting to head out, I can pick it up and play it for a couple of minutes. This means that I'm regularly practicing without feeling like I have to put in much effort into it. (Check out our blog post about practicing music).
- Trying to play without thinking about it - one thing that is nice about the guitar is you can play it very quietly. A few times, while I've been watching TV, I'll have the guitar in my lap and just practice going back and forth between two chords so that it gets in to my muscle memory. This way I start to be able to play without thinking about it.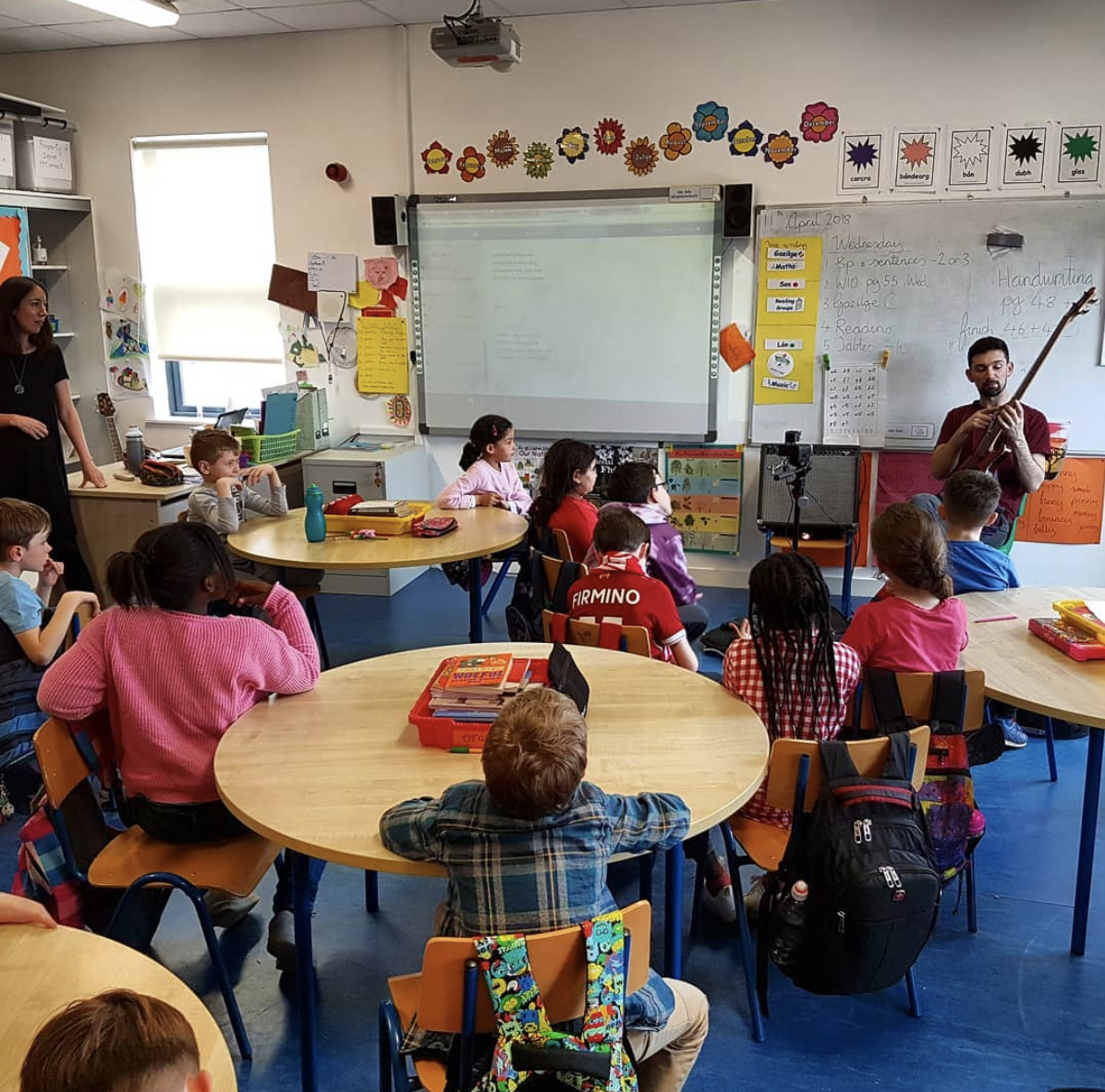 Now, I'm no Jimi Hendrix nor will I ever be, but even after a couple of months I can play some basic songs and can feel myself getting better bit by bit. It's these little wins that bring the enjoyment and motivation to continue to pursue it.
My experience is what I have figured out has worked for me but it won't for everyone. Whether it's getting one-to-one lessons or doing it as part of a group, it's important for you to figure out what works for you so you give yourself the best chance of success possible. If you try one avenue and it's not working, don't quit, just try changing the way you learn.
I hope you've enjoyed our blog this year. We've got big plans for even more helpful tips and helpful resources for teaching music. Until then though…..
Merry Christmas and a Happy New Year from all of us at DabbledooMusic!