The year is 2006. I have just started my final year of secondary school, Italy have won the World Cup after Zinedine Zidane had been sent off in the final and Pluto has just been downgraded from a planet to a dwarf planet – these are testing times indeed. The internet was starting to get in to full swing and there was no more impactful an arrival than the explosion of the online video giant YouTube.com. A whole world of snowboarding skills and cats falling over was now available for all to see. But with all that, there is perhaps no genre the site had a greater impact on than music.
The first video I ever watched on YouTube was David Hasselhoff's song 'Hooked on a Feeling'. While undoubtedly my 17-year-old self would hardly have been able to remain controlled watching the former Baywatch star's musical masterpiece - there was still much more to come from this site.
YouTube did genuinely progress to provide a great source of inspiration for the musical activities I was involved in. It was, and continues to be, a fantastic resource for budding musicians to see and hear how other musicians and artists perform and present all sorts of musical experiences.
In this blog, we have compiled our top 10 most inspiring musical videos for anyone learning music as well as our insight about what they teach us about music education. Hope you enjoy it!
1.) Walk Off The Earth - Somebody that I used to know (Gotye)
Belgian-Australian singer-songwriter Gotye released Somebody That I Used to Know back in 2011. The simple yet intriguing chord structure and powerful vocals made this a great choice for group Walk Off The Earth who have had huge success reworking well known tunes in inventive settings. For this song they manage to fit all 5 members around a single guitar and get every possible sound out of it. It's a very clever arrangement and shows the full capabilities of the instrument to any young guitarists starting off. Some very tasty vocal harmonies in there too!
2.) PS22 Chorus - Lisztomania (Phoenix)
The PS22 Chorus is an elementary school choir from New York directed by Gregg Breinberg. One of the most enjoyable settings for people to make music in is in a choir singing with your friends. These kids in the PS22 Chorus have that enjoyment and passion in spades. It's clear to see they all love singing and they aren't afraid to show it. Encouraging children to make music in groups and to express themselves are two of the best ways to keep young people engaged in their music education.
3.) Apartment Sessions - My Oh My (Punch Brothers)
You know that feeling when you walk in to your house and there's a double bassist playing in your shower? No?! No, me neither, but after watching the Apartment Sessions I feel like I do. There's something about seeing music played in confined spaces which makes it so very intriguing. These guys manage it terrifically through video and audio link up via the different rooms in an apartment.
One of the great art forms in music is the arrangement of existing pieces of music in new settings and this is a brilliant example of that where this collective have taken the Punch Brothers' song 'My Oh My' and rearranged it for many more musicians with many different types of instruments. Have a listen to the original here and compare it to this arrangement. Keep an ear out for the bass clarinet solo too – it's whopper!
4.) The Louisville Percussionists - Zeppelin! (Led Zeppelin)
I wonder when Jimmy Page and Robert Plant wrote Kashmir in 1975 did they think that 40 years later 55 school children from Kentucky would be playing it on tuned percussion? I can only presume they did because it works so well!
These instruments are great for children starting off learning music as you can quickly get a good sound out of them. They are also easy to play in groups and a similar technique can be applied to many instruments within the percussion family.
Plus, any music which has a dance routine to it is just better in my opinion.
5.) Mnozil Brass – Lonely Boy
Mnozil Brass are an Austrian brass septet and have been charming audiences with their goofy sense of humour and outstanding brass playing since 1993. This is mandatory watching for any young brass player out there. In this video, three of the more popular brass instruments are on display here: the trumpet, trombone and tuba. Along with being very funny, this video is a great example of how an ensemble of different instruments but from the same family play together.
This piece Lonely Boy also displays the oddest musical teamwork you're ever likely to see!
6.) Bobby McFerrin and the Pentatonic Scale
Anyone wanting to feel inspired by the power of music should watch Bobby McFerrin on repeat. This video is from World Science Day in 2009 where Bobby demonstrates the power of the pentatonic scale. He shows that with minimal direction, an audience can grasp the concept of the scale even where certain notes haven't been explicitly taught. It shows us our innate human ability to be musical. Great inspiration for anyone who thinks they 'aren't musical'.
7.) Beethoven 'Ode to Joy' flash mob
I bet the young girl didn't expect this when she dropped a coin in to this double bassist's hat! The crowd stare in disbelief as one by one more and more musicians come out to join in until a full orchestra and choir is playing the main theme from Beethoven's 9th Symphony.
The Ode to Joy theme is the 4th and final movement from Beethoven's last symphony and is an extremely significant piece of music in its own right. When it was first performed in 1824 many commentators thought that this represented music reaching its pinnacle through the combination of an orchestra and a choir – from this rendition you can see why they made that argument. It has since been used as a piece for musical celebration in many significant settings: from a Chinese student broadcasting the piece in Tiananmen Square; to a concert conducted by Leonard Bernstein following the fall of the Berlin Wall and, finally, as the music used when Hans Gruber cracked open the safe in the first Die Hard movie - all truly important events in our lifetime.
8.) Chris Hadfield - Space Oddity (David Bowie)
Chris Hadfield is the former commander of the International Space Station and released this version of David Bowie's Space Oddity in 2013. A good formula for an inspiring music video is one which has a great tune played in a beautiful setting and I think Commander Hadfield has really nailed it with this.
I went to see Chris Hadfield speak in Dublin a couple of months ago and he talked about how when he released this video, David Bowie was in touch with him to say how much he enjoyed it and how it was put together.
Off the success of this video, Chris went on to perform a song with 700,000 children around the globe via live video link up which you can watch here. Along with inspiring children to become an astronaut, his videos demonstrate the power that music can have in bringing people together and how it's a skill you can take with you wherever you go – and that includes into the ether!
9.) Stomp Live - Brooms

One of the great things about making music, is that you can use almost anything to make it. This video is from the show Stomp which has been performed all over the world including on Broadway and The West End. In this video the crew make incredible rhythms and beats from just brooms. This shows the diverse amount of sounds that can be made with such a basic household object.
When a child is learning the basics of music, one of the most fundamental things for them to explore is how sound is made and how different objects can make different sounds. If you'd like your child to learn music, helping them to discover how objects sound is a great introduction – and yes this may include them hitting your saucepans with your wooden spoons.
In our course 'Dabbledoomusic: Early Years', Shane demonstrates how you can use household items or very simple instruments to learn the basics of music. If you'd like your child be able to take their first steps in learning about music, why not try out our course by clicking on the link below: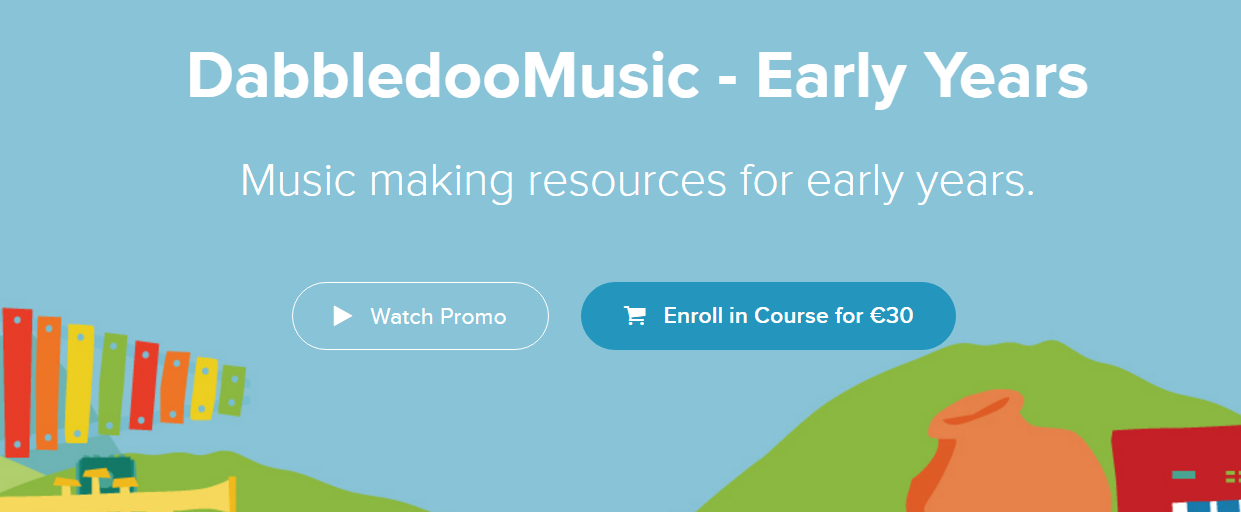 10.) Jimmy Fallon, The Roots and Sesame Street - 'Sesame Street' Theme
Who doesn't love the Sesame Street Theme Tune? Nobody – that's right!
Jimmy Fallon, the US talk show presenter, has developed a great segment where he and the house band - The Roots - take a well-known tune and strip it down to be played on instruments designed for children. They've played with the likes of Adele, Metallica and Ed Sheeran on a line-up which includes kazoos, glockenspiels and ukuleles (you can check out the full YouTube playlist here).
In this video, Jimmy is joined by the full cast of Sesame Street including Big Bird, Elmo and Count Von Count. The series of videos is another great example of the fun that can be had playing music with other people and it also shows how, even with very simple instruments, you can play tunes you love.
We hope you enjoyed our list and that it helps to trigger your musical imagination. Is there any videos you find (or have made) which you find musically inspiring? If so, let us know by leaving a comment below or getting in touch with us.
If you'd like to find more ideas for making music at home, check our 'Complete Guide to Music Making for Kids' for links to additional resources.